Best practices for SEO in the life science industry
Best practices for SEO remain relatively similar regardless of the industry or sector that your business may be in.
Yet, one sector that tends to be slow on digital marketing uptake is the scientific industry – often without good reason. But the potential for scientific businesses to grow online is massive, especially as investors are looking for strong brands – at a time when the importance of proper online science and health information is the highest it has ever been.
Therefore, in this blog post, I want to discuss some best SEO practices that should be considered to any website that is marketing science products and/or services – whether that be life science, biotech, pharmaceutical or similar.
Find and target keywords
When it comes to attracting traffic to your website, you need to ensure that you are targeting keywords and topics that you know are already being searched by your target audience.
This is important because you should use this initial research step to understand how your potential audience searches for your products and services, rather than making any assumptions.
Once you have performed this initial research step, you can sort topic(s) in order of how many people are looking each month, as well as related content ideas.
Take, for example, the below screenshot showing keyword information for "hplc columns" with some related keywords to also take into consideration: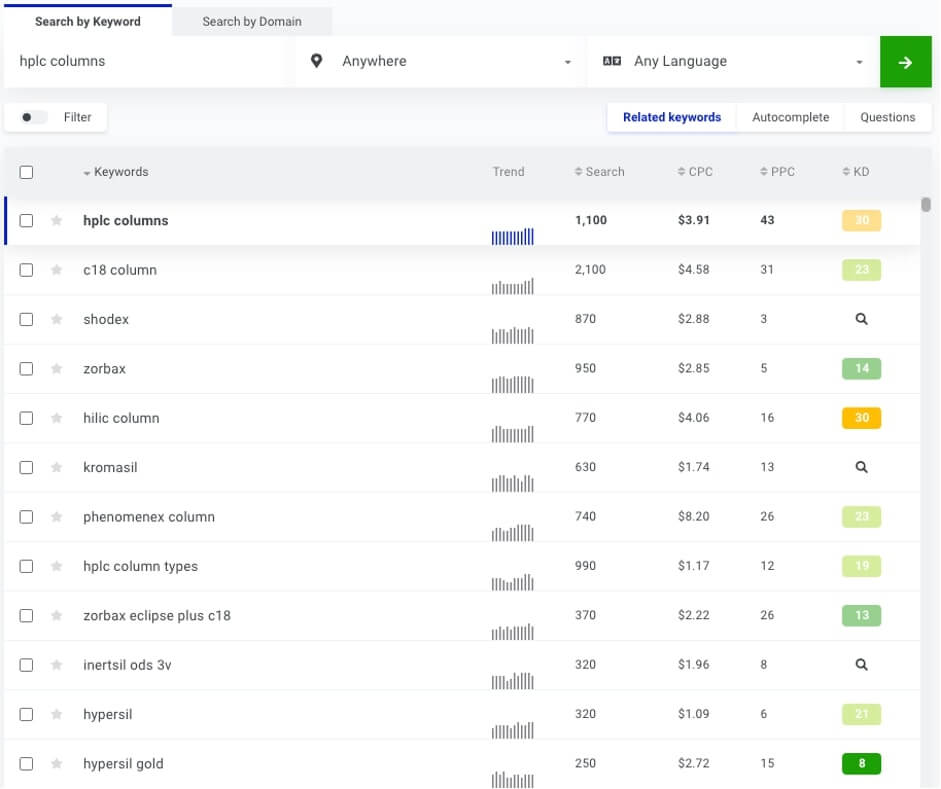 It is clear from this initial list of related keywords that if you are to market HPLC columns, you probably want to focus your attention on brand names, column material and use cases.
This information should help lead you to make business decisions on prioritising your SEO efforts for your website and help inform future business decisions.
But keyword research should not be a one-off task that is performed and never revisited. Search interest can change dramatically – based on external factors – which can also be localised by peaks and troughs from different regions worldwide.
Although a rather obvious example, look how the latest pandemic shaped interest in "vaccine" searches throughout 2020, demonstrated by Google trends: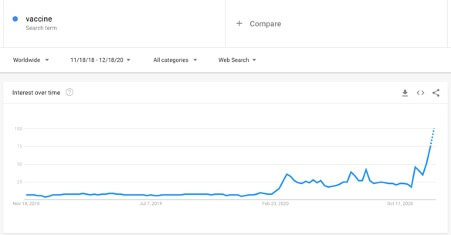 As industry challenges and expectations change, make sure that you are aware of these and how it can impact the traffic you can generate via SEO.
Avoid acronyms
Regardless of your scientific discipline, I am willing to bet that there are plenty of industry-specific acronyms to be aware of – the above example for "HPLC" is a perfect example of a common analytical chemistry acronym.
So, when it comes to both the keyword research steps (mentioned above) and producing actual content to target your keywords, you need to ensure that you are explicit with user and search engine understanding of the acronym.
This will vary on a case-by-case basis, consider the below examples:
CRISPR (clustered regularly interspaced short palindromic repeats) is a common scientific term for anyone in the biotech industry. A quick Google search shows that the understanding of CRISPR is very much targeted towards the expected scientific discipline: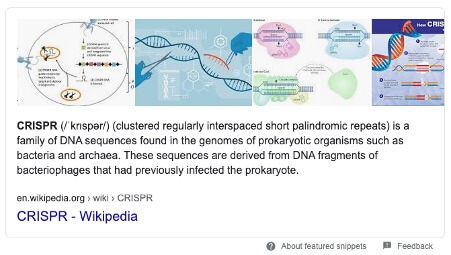 However, make a search for API (active pharmaceutical ingredient), and you will immediately see that the search intent is different from what you might expect: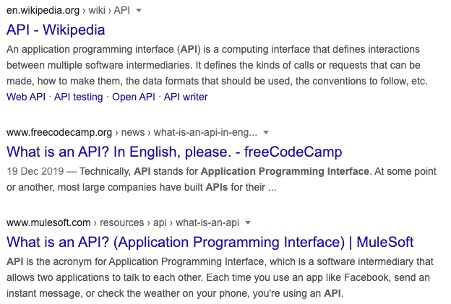 So, just because you and your industry know of an acronym, don't assume that other people – or search engines – will display return the same results you expect.
Prior to any research or production of work, ensure that you do a simple Google search to understand what search results are present for full search queries and their abbreviated form.
When it comes to producing content, ensuring you target keywords that feature both the acronym and full-length version is vital for SEO success.

Match keyword intent
Investigating the full meaning behind acronyms focuses on understanding the keyword intent, but it doesn't just stop there.
For every keyword, search engines try to understand user intent and provide search results accordingly.
Generally, keyword intent can be roughly categorised into 'navigational', 'informational', 'transactional' and 'commercial'.
Ensure that your focus keywords match the general intent demonstrated in the SERPs and that you modify any keywords to fit the intent you wish to target.
However, don't assume that keyword intent will stay consistent over time.
As Google gets smarter, it tests out different search results for intent, focusing on providing the best user experience. This sometimes means a change in user intent; with previously high-performing keywords may see drastic changes – a common result of core updates.
Again, the best way to investigate search intent is to actually make your own search for exact and similar target keywords and see what the top results generally feature and whether they match what you would expect to see as a visitor.
Proper keyword categorisation
As I've already demonstrated, finding a keyword and then deciding what you should do to best target it, isn't as simple as using a keyword research tool and picking the keyword with the most search volume. It should definitely not be considered on a keyword-by-keyword basis either.
A proper strategy should look at grouping or mapping multiple keywords to multiple categories or topics.
This strategy should make it easier for better ranking on your target keywords, as your website becomes an 'authority' figure for specific scientific categories rather than one-off topics.
For example, if you want to target keywords related to 'Chromatography', you might want to consider splitting this topic into 'liquid chromatography', 'gas chromatography', and 'paper chromatography'.
Even then, you might want to further split this into 'equipment', 'separation techniques', 'troubleshooting guides', sample preparation', etc.
The screenshot below – taken from Sigma Aldrich – shows what their site covers in terms of products and categorised them accordingly.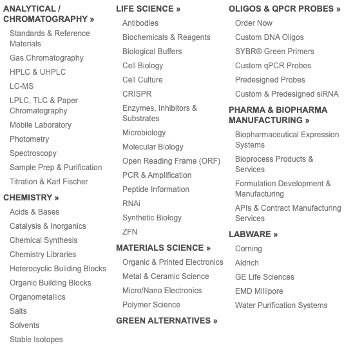 Based on the screenshot above, the site is properly structured for both users and search engines.
Consider the following URL – https://www.sigmaaldrich.com/life-science/molecular-biology/pcr/pcrselectionguide.html – and how the URL is clearly categorised into appropriate application types.
This approach can quickly expand the scope of your SEO work, but demonstrating expertise and authority on a much broader knowledge base will likely result in excellent SEO results.
Use experts to demonstrate expertise and authority
The best SEO efforts pay off when the best possible content is produced to target keywords with search users in mind.
There are many ways you can make your content the best it can possibly be, including general SEO recommendations such as fast loading pages and good UX design, for example.
But one way that scientific industries can add to high-quality content is having an author(s) that are experts in their fields.
A published author with real-life experience working as a scientist, with publications and online profiles to back it up, is likely to demonstrate better expertise to users and search engines.
This also pays off when it comes to people actually reading your content; specialised content needs to be written by a specialist.
Sure, you can outsource your content efforts to a general freelancer or writer, but how can you ensure the best information possible, if you don't have the best author possible.
Conclusion
An SEO approach for businesses in the life science market shouldn't differ too much from SEO in any other industry. However, some nuances require specialised knowledge of the scientific industry that are required to help shape a strategy.
First and foremost, website content should be produced for users. This means producing high-quality content that comes from a knowledgeable source with relevant expertise.
However, it also requires content that can actually be found by the users who are looking for it!
Ensuring that the proper keywords, keyword intent and site structure are planned and implemented will ensure that you maximise your reach to scientists!