An SEO industry analysis of the US vehicle insurance industry
The COVID-19 pandemic impacted industries across the globe, and the US vehicle insurance industry was no different.
Now it's been two years since the first lockdown, we're taking a look under the hood of the US car insurance industry to see if it stalled or steered clear of the obstacles that many other industries experienced.
We'll need to gauge what impact the pandemic had on the industry. According to Value Penguin, more than a quarter of drivers made cost-cutting changes to their auto insurance amid the pandemic. This included switching to an insurance provider offering cheaper premiums, reducing coverage due to driving less, or removing vehicles from policies.
IBIS World estimated the US automobile insurance industry is worth $316.2 billion, and has grown by 2.3% in the past five years. Should it rise by the same amount again, the industry could be worth $323.5 billion by 2027.
With nearly 8,000 companies offering car insurance, the market is extremely competitive, so appearing as high as possible in search results has never been so important.
Insurance search trends
Before heading straight into the analysis, it would be best to review the US auto industry's recent performance and look at the trend data to see if market demand has changed over the past few years.
What is the current demand for the auto insurance industry?
To answer this, we're first going to look at the two most popular keywords in the automotive insurance industry.
When comparing the search terms 'auto insurance' and 'car insurance' in the US over the past three years, we can see that, whilst car insurance is a little more erratic with larger peaks, they both follow similar trends.

Both key terms were significantly impacted during the first lockdown. Even though they recovered relatively quickly, neither reached pre-lockdown levels until almost a year later.

Looking at the wider industry and digging deeper into the search volume for US keywords connected to the auto insurance industry, it's clear that lockdowns negatively impacted the industry. Comparing figures across 2020, most keywords dropped more than 18%, with 'car insurance quotes' and 'auto insurance quotes' dropping a staggering 45%.

Despite this, the industry has experienced its best year to date in 2022 for search volume, with the term 'car insurance' having almost 83% more searches than pre-lockdown.

As we approached the end of the year, there was a decline in volume for automotive insurance keywords, which seems consistent each year.
How does this compare to other insurance industries?
There is a big drop in searches every year in November for most industries. However, the health insurance industry sees an increase, which is potentially linked to the Open Enrollment Period from 1st November to the middle of January.
HealthCare.gov explains the Open Enrollment Period is when Americans can apply for a healthcare plan, which could explain why, as shown by the blue line in the graph below, health insurance sees the biggest rise in searches seen annually in December.

Excluding the November reduction, the other significant drop experienced by all industries is in March 2020, at the beginning of the first COVID-19 lockdown.
Experiencing the lowest numbers in the past three years, the market slightly recovered and had consistent growth until the next November drop.
The data has highlighted an unprecedented spike for the term 'car insurance' at the beginning of the 2021 summer. The spike appeared to spark a volatile period for the term 'car insurance' until it levelled out in February 2022.
Company trends
Understanding and analysing the trends and volume will help us distinguish what, if any, impact these have had on the insurance companies within the US.
For this, we will review the performance of the following companies using third-party data:
State Farm
GEICO
Progressive Group
All State
Farmers Insurance
The Hartford
American Family Insurance
State Farm
Self-declared as the leading auto and home insurer in the US, State Farm has been an established enterprise for over 100 years. Its 2019 revenue was over $79 billion.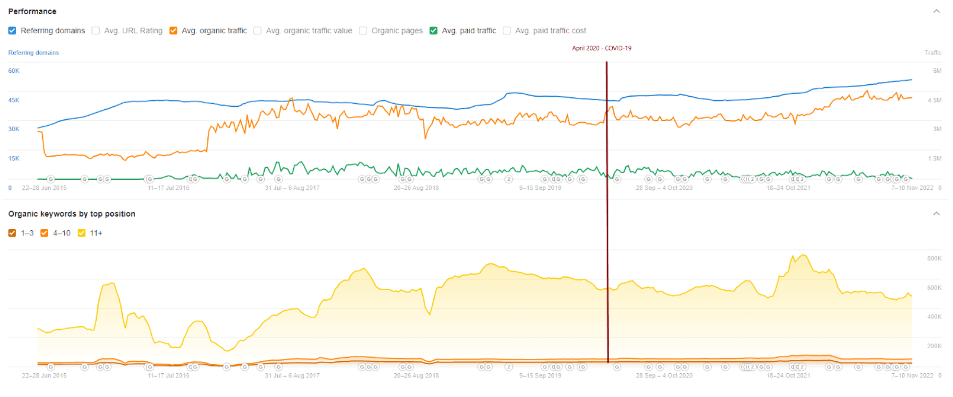 Reviewing its performance since 2015, we can see April 2020 saw a spike in visits despite the decline in traffic via Paid Media. This appears to back up Value Penguins' research that suggests people were looking to either reduce or change their insurance premiums during the first lockdown. The number of visits to the site weren't impacted severely due to COVID-19 for this reason.
There has been a huge increase in visits in 2022, rising from a low of 2.8 million visits in November 2021 to an all-time high of 4.5 million in June 2022. It has remained around this figure and is currently seeing 4.1 million visitors in November 2022. One possibility for the increase is State Farm turned 100 years old in 2022 and has run a number of publicity campaigns celebrating its centenary.
We can see that prior to the increase in November 2021, there was an increase in the number of keywords across all positions. This has recently declined, while organic visits have remained consistently around the 4.1 million mark.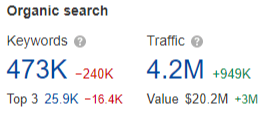 By analysing the organic search performance, it seems there are improvements the site can make for SEO. It has 240k fewer keywords than the previous year, but has gained nearly 1 million more visitors, which is possibly linked to an increase in PR opportunities and coverage.
Losing keywords in the top three positions doesn't seem to have made an immediate impact on State Farm's visitors, but should be something their SEO team investigate to ensure it doesn't have future consequences.
GEICO
The Government Employees Insurance Company (GEICO) is a private insurance company that currently has more than 18 million auto policies and insures more than 30 million vehicles.
It was founded in 1935 and, in 2020, had a revenue of over $35 billion.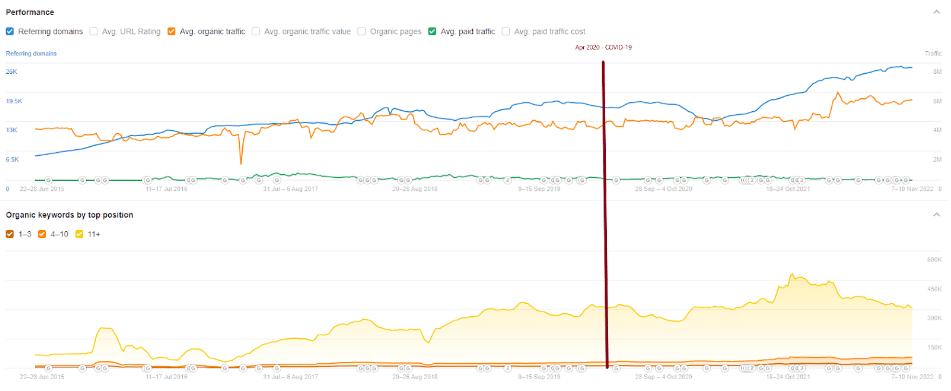 It had been a consistent performer for several years until visitor numbers took a sharp increase in February 2022, rising from 4.2 million visits to 5.5 million in March 2022. Reviewing the number of referral domains, there is a possibility they have created a backlinking strategy that helped their brand awareness and improved their SEO performance.
This is in line with a Page Experience update released by Google but could also be related to GEICO deliberately working on their SEO performance ahead of the Google update.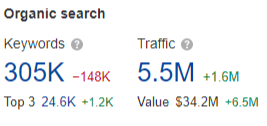 Similar to other insurers, GEICO has lost ranking for a number of its keywords but is still managing to increase traffic, which may be helped due to the increase in top three keywords and backlinks. In November 2022, GEICO made a number of design and SEO tweaks to the website, including a new footer:
Website footer from Way Back Machine Web Archive dated 9th October 2022:

Compared to the footer as of 10th November 2022: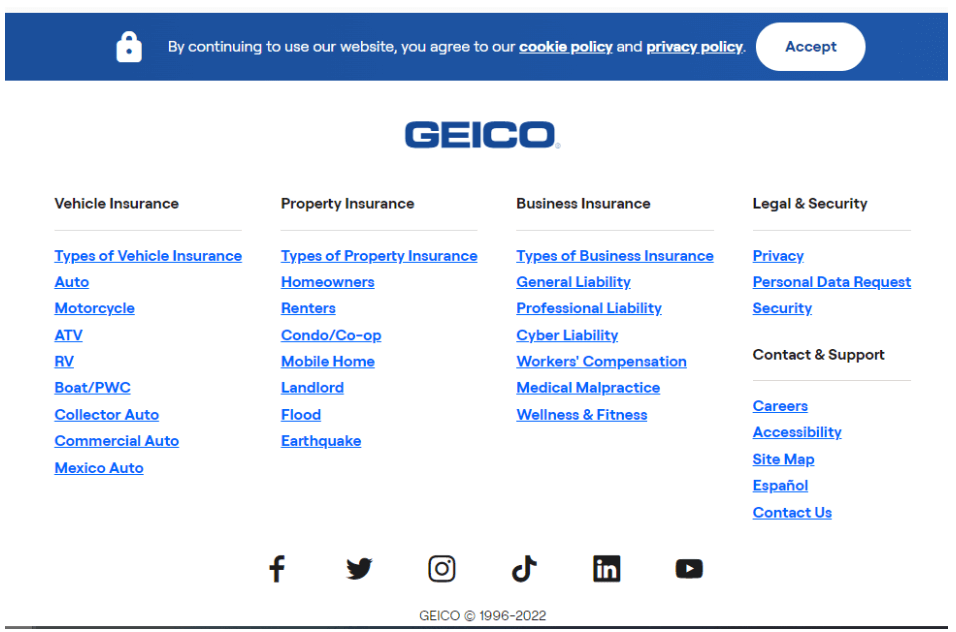 Adding these links will help Google crawlers navigate the website more efficiently and quickly. It would be interesting to keep an eye on GEICO's performance to see what impact the recent changes have on their ranking.
Progressive
Progressive started in 1937 and, from the off, wanted to innovate the approach to auto insurance.
Fast-forward to 2020, its revenue was estimated at over $42.5 billion. It stayed true to its philosophy by becoming the first insurer to offer a voice action on Google Home in 2017.
Unfortunately for Progressive, this didn't seem to impact the organic traffic to the site, with no distinguishable rise throughout 2017.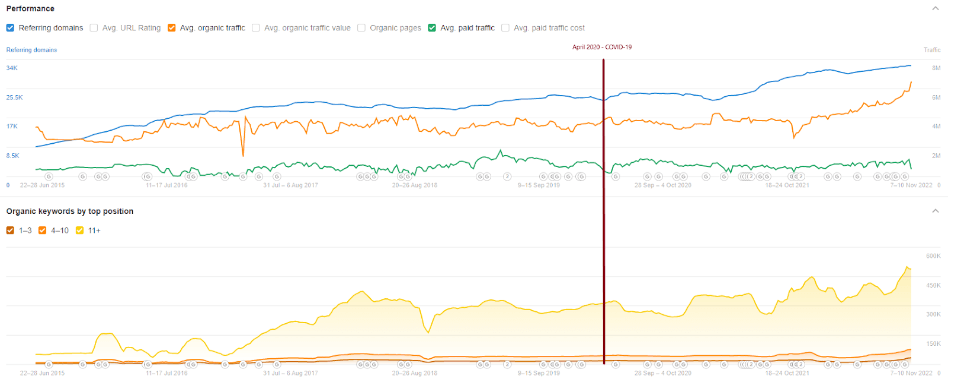 More recently, they have seen a positive increase in the number of visitors to the site since the annual dip in November 2021. They have also had an increase in the number of keywords in the top three results.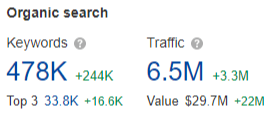 The performance of the organic search has been very positive. The growth could be linked with the Google update on product reviews, but it appears to be more of a concerted effort to improve their SEO performance.
This is in spite of an issue with the redirects on the homepage that takes the user to https://www.progressive.com/home/home/.

When a user visits Progressive's website, they are redirected to /home/home/ by a temporary redirect. When investigating the URL with just /home/, there is a permanent redirect to /home/home/. This could potentially cause a redirect chain, which has the potential to negatively affect their SEO.
Again, looking at the Wayback Machine – Web Archive, we can see the redirect chain may be causing an issue with two versions of the website displaying.
Up to July 2022, the site had its previous design: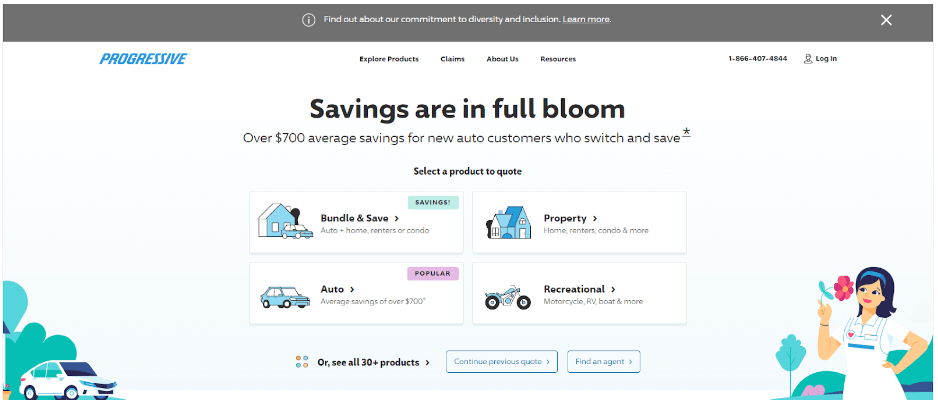 There seems to have been a rebranding refresh since August 2022. The site was changed, which may explain why they wanted to redirect away from the /home/ URL.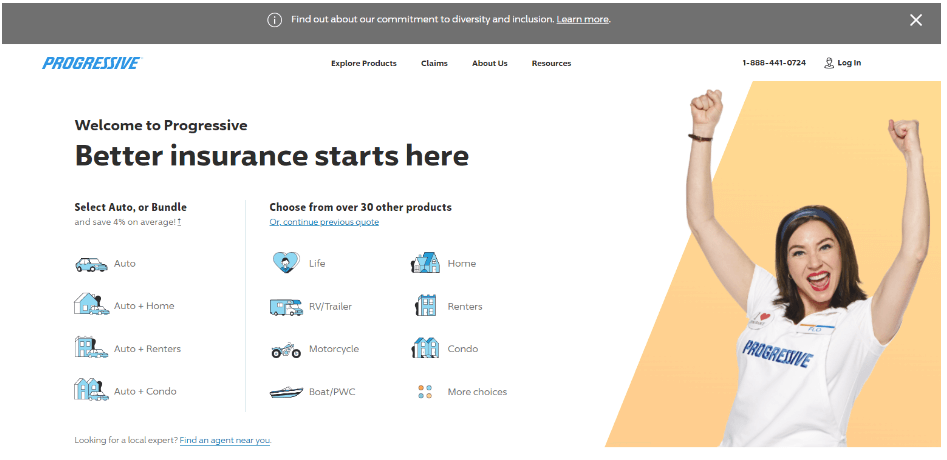 However, throughout September 2022, the old rebrand is still being picked up by Wayback Machine – Web Archive. On 8th September, Wayback Machine showed the Progressive site with the old design. Then, on 21st September, it showed the site was back, displaying the new version before it reverted to the old version again. This doesn't seem to have impacted rankings during this time, and both traffic and keywords continued to rise.
Allstate
Allstate started in 1931 during the Great Depression in America and was initially a mail-order insurance company. It quickly rose and, in 2019, was ranked 79th on the Fortune 500 list, with an estimated revenue of $44.5 billion in 2021.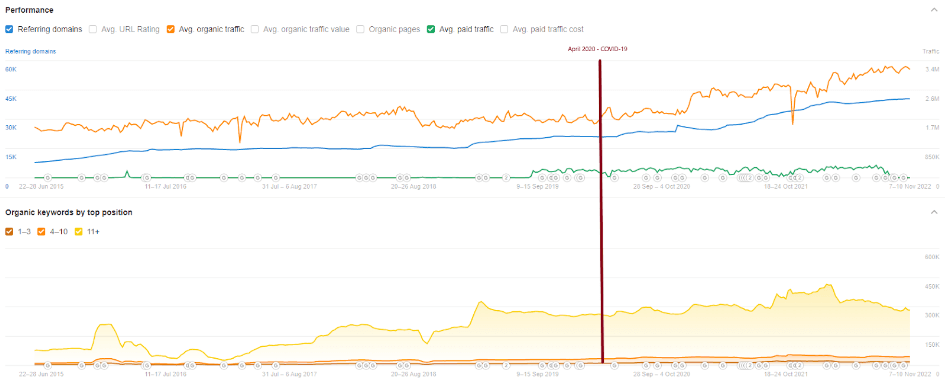 There was a spike in numbers during the first lockdown, breaking into 2 million visitors for only the second time in history. This is despite having no increases in the performance of organic keywords by top position compared to April 2020.
They experienced their biggest increase in visitors at the end of 2020, with a 33% rise from 1.8 million to 2.4 million. In November 2021, they lost over 1 million visitors and recorded their lowest number in two years, although it quickly recovered and has been on a steady increase since.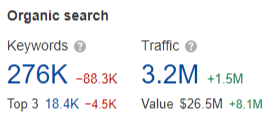 Their organic search performance has also fallen. It would be useful for Allstate to review this from an SEO perspective to find the cause and whether it can be better optimised.
Farmers Insurance
Starting out as insurance specifically for farmers, ranchers and other rural drivers, Farmers Insurance has since branched into other industries like auto insurance. They had a revenue of over $11.5 billion in 2019.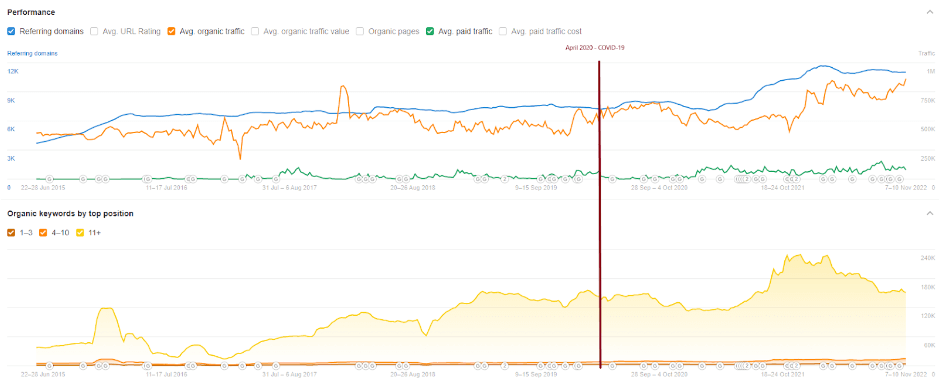 In terms of their performance, the site received a boost in visits going from 373,121 visitors in December 2019 to 602,654 in January 2020. During 2020, this dipped in February (482,457) and March (473,092) before rising back up to 596,520 in April.
There was then another drop in September 2020 and, after a brief rise and fall in January 2021, only recovered in November 2021, with a rise from 408,776 to 763,705 in January 2022. Following another dip, it has begun to increase steadily and, in November 2022, enjoyed the most visits to the site in its history at 862,401.
Looking at the link between the number of visitors and the organic keywords in a top position, there appears to be a correlation. There appears to have been an emphasis on improvement in April 2021, until it started to decline again in March 2022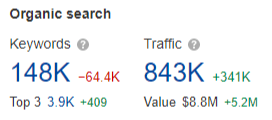 Their organic performance has been positive. Despite losing a number of keywords in 2022, they have increased the number of their top three keywords.
We identified a potential issue that may be impacting their SEO score. When visiting the site from outside the US, we are met with the following error:

Although Google is more likely to crawl the site with its US servers and possibly not see this issue, should crawlers try to visit the site using EU servers, there is a potential of inaccessibility to the site, which could hurt their SEO ranking.
The Hartford
Starting out as a fire insurance company, The Hartford saw some of the most devastating events, including the 1835 Great Fire of New York, the Chicago fire of 1871, and the 1906 San Francisco earthquake and fire.
Despite these catastrophic events and high-damage claims, it managed to grow into a business with a revenue of $22.4 billion in 2021.
Although it is predominantly a property and casualty insurer, it does offer car insurance to customers aged 50 or over.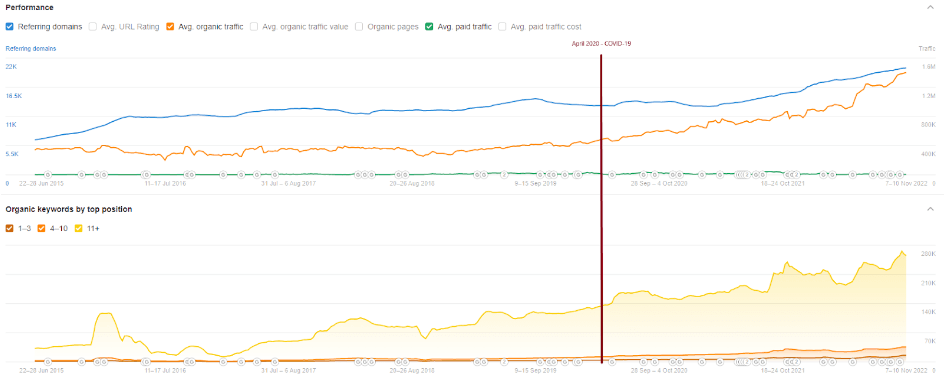 It has seen a consistent increase over the past three years, with a very slight dip during the first lockdown period starting April 2020 when visits fell to 460,814.
Alongside the increase in visits, The Hartfod has seen a steady increase in the number of organic keywords. Two of the biggest impacts that saw the greatest gain seem to be due to Google updates. The first in August 2021 was shortly after the July 2021 Link Spam Update, and the number of keywords increased from 171,756 (with 7,669 in the top three) to 239,607 (top three increasing to 10,979). The second was Google's May 2022 Core Update, where it rose from 189,736 (top three from 8,101) to 265,891 (top three to 15,633) in October 2022.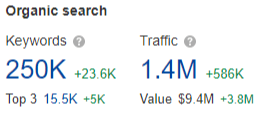 The performance of the organic search has been strong and consistent in 2022, which looks to be a result of continuous improvements to their SEO. One example is they recently launched a new landing page specifically for Bundle Insurance, which was added to their navigation in November 2022.


These changes to the site would suggest The Hartford is investing in their SEO and enjoying success.
American Family Insurance
American Family Insurance, abbreviated to AmFam, started in 1927, when its only product was auto insurance. Its original name, Farmers Mutual Insurance Company, is not to be confused with Farmers Insurance, even though its main target at inception was farmers due to their perceived lower risk.
That's not where the similarities end with Farmers Insurance mentioned earlier. When visiting AmFam from our EU server, we were blocked, so it is open to the same issue as Farmers Insurance, that could impact their SEO score.

Moving away from farmers, AmFam has since expanded its market base and offers a wide range of insurance products to an even wider range of customers. AmFam reported a $12.2 billion revenue in 2019.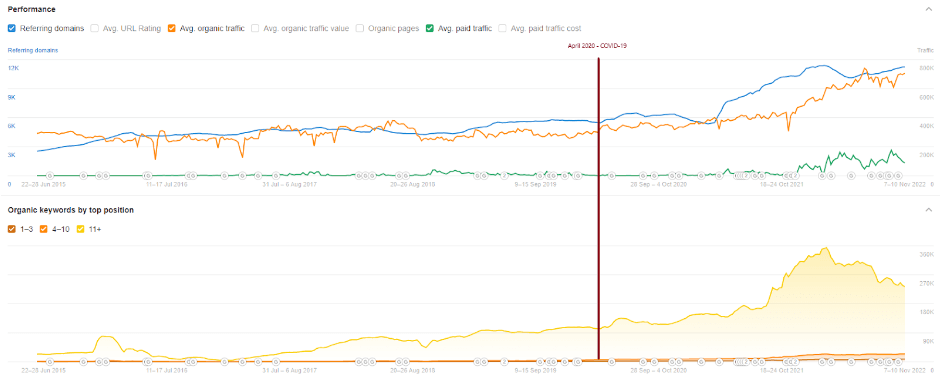 This shows the organic traffic was slowly increasing until August 2018, the same time as Google's Mobile Page Speed update, where it then dropped from 342,889 to 241,188 visitors.
In terms of keywords, it wasn't until the beginning of May 2021 that the number of keywords ranking shot up significantly, moving from 2,949 keywords in the top three positions to 8,930 within six months.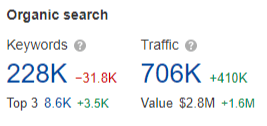 While the number of keywords has decreased by over 31k, the number in the top three has increased by an impressive 68% to 8.6k.
Conclusion
Unlike our analysis of the UK fashion industry, the US auto insurance industry's journey is headed in a different direction. However, it appears it's turned a corner, as the majority of companies we reviewed are experiencing a steady increase in visitor numbers in the past year.
This is despite the market for auto insurance being extremely competitive and a varying degree of success for the companies we reviewed regarding keyword ranking.

The only two companies in our list that don't have over 1 million visitors are Farmers Mutual and AmFam. This is unsurprising, as both have the least number of keywords in the 1-3 positions.
SEO Standpoints – Good Practices
Overall, these websites seem to have been focusing on SEO best practices, and this can be seen by their consistent increase in traffic. It is evident some are constantly improving and adding content and new service pages to their site, such as Progressive's bundle insurance page, to help drive progress in their SEO ranking.
SEO Standpoints – Low Performing
Even with the apparent focus, there are many areas these sites could improve. One of the main points is Core Web Vitals with, five out of the seven failing this audit, the most common reasons relating to the Largest Content Paint (LCP) and First Contentful Paint (FCP) metrics.
There is some room for improvement regarding the H1, title and meta descriptions, with a number of these either being too long or too short.
What's down the road for the US auto insurance industry?
There is some uncertainty on how the industry will be affected by economic factors such as rising oil prices and the potential for another market crash and what this would look like going forward.
Previously, the US auto insurance market had still grown in previous US recessions. However, with the impact of COVID-19 and a saturated market, companies will now have a bigger challenge and will need to move up a gear to continue to be successful should the US fall into a recession again.