An SEO industry analysis of The UK online fashion industry
2020 is now known as the year that revolutionised eCommerce. Unprecedented lockdowns and social distancing drove fear among masses globally for shopping in physical stores. Consumers switched to online shopping, which was a safe, fast and convenient way to purchase items.
This change in buyer behaviours made online fashion businesses compete to succeed online, trying their best to understand buyer psychology from clicking on the page to adding items to the basket and finally completing the purchase. Most importantly, the main question was: 'how to appear in the first position on search pages?'
The UK fashion and eCommerce industry was forecasted to grow to £37 billion in 2022, making it a highly competitive industry.
However, as a result of the below analysis, it is clear that the weaknesses within the online fashion industry are:
Dependence on suppliers

Customer's high brand switching inclination

Strong competition 

Sustainability issues
The fashion industry has faced sustainability and supply chain issues with child labour and unsafe conditions for workers. The fashion industry is also accounted as the second-largest consumer of water. 
Many fashion retailers include information on their 'About Us' page to clarify the steps they are taking towards sustainability, how they ensure fair pay and working conditions for employees, as well as how to stop child labour and modern slavery. As it could be a breaking factor for a certain consumer group that is changing their attitude to fashion and holding brands accountable for fast fashion's impact on the planet, this is important information to include on their websites. 
Looking at Google Trends for the 'fast fashion brands' keyword, we can see how it has been changing over a period of five years, especially when the pandemic hit in 2020.  

We can see the search volume increases and decreases over the five-year period, with its first peak coming in 2019 and then declining until 2020 when it sees its highest search volume. It decreases afterwards before slowly increasing again in 2022, only to dramatically decline again.
This article will discuss a number of UK online fashion brands to identify their performance from an SEO perspective.
PrettyLittleThing
PrettyLittleThing is a UK fast-fashion retailer currently owned by Boohoo Group. The brand's target audience is women 16-42 years old, to whom the company wants to inspire confidence, and body positivity and promote equality regardless of gender, body type or race. Apart from the UK, the company also operates in Ireland, Australia, the US, France, the Middle East, and North Africa.
Using third-party data will give us an idea of how the company's website performs from an average organic traffic perspective.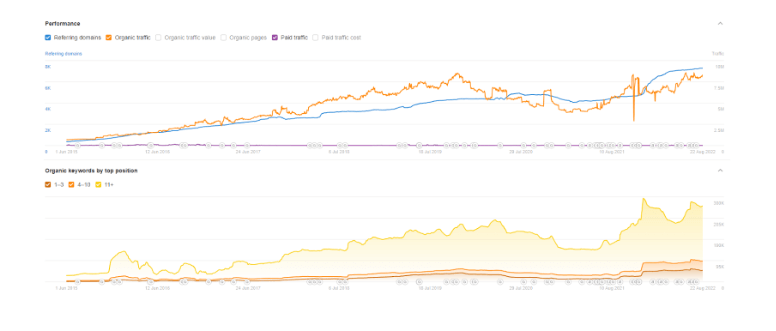 We can see that the brand's organic traffic was low in April 2022 (6,420,960) and increased in June 2022 (8,058,646) and is currently seeing consistent growth.
The company's organic keywords performance by top position is not reflected in its organic traffic volume as per below:

The website has lost its keywords in the top 3 positions, in positions 4-10 and 11+. We can conclude that the website could be better optimised from an SEO perspective and increase back its organic keyword ranking performance
Boohoo
Boohoo Group plc is an online fashion retailer that launched in 2006. The company states that it's a global brand for 'all girls'  that aims to empower them to feel confident and supports body positivity. Boohoo bought Karen Miller and Coast out of administration in 2019, keeping the brands' online presence and closing the stores. In 2021, Boohoo bought Debenhams' brand and its online business. It also acquired other businesses, including Burton, Wallis and Dorothy Perkins. 
We will have a look at how the brand's website performed at the start of the global pandemic in March 2020 compared to how it is currently performing to see if the website was SEO optimised when the pandemic began.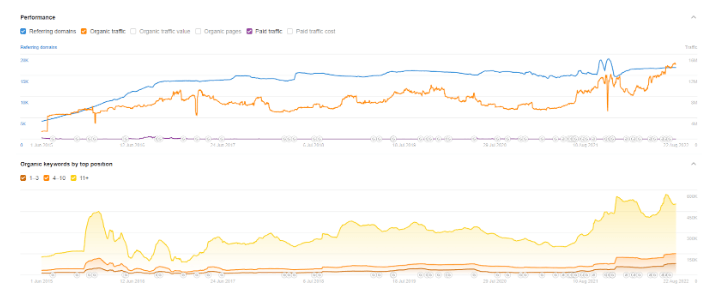 The organic traffic performance graph above shows that the website's search volume is currently growing and has increased in August 2022 to 13,999, 959, which is a drastic difference compared to March 2020 when it was 7,138,833. The comparison indicates that, within two years, the organic traffic has nearly doubled, which means the website is better optimised now than it was in the first lockdown. 

We can also see from the above that the organic traffic for the keywords in the top 3 positions increased but the keywords in 4-10 and 11+ positions decreased, which could mean that the brand has been optimising its website's keywords and is currently seeing them ranking higher in search engines.
Missguided
Missguided is a UK fashion brand that was founded in 2009 and later expanded into France, Germany, US and Australia. Its target audience is millennial women, to whom the company is offering fast fashion items they may need for different elements of their life. The brand's mission is to empower women and inspire confidence. Missguided founded a menswear brand in 2017 called Mennace.
It was reported in May 2022 that Missguided would go into administration as its suppliers filed to close the company down over its multiple debts. However, on 1st June 2022, the brand's intellectual property and its sister brand's intellectual property were bought by Frasers Group. As of 2022, its legal name has changed to MGL Realisations.
Using third-party data, we will have a look at how being bought by Frasers Group has impacted its organic traffic.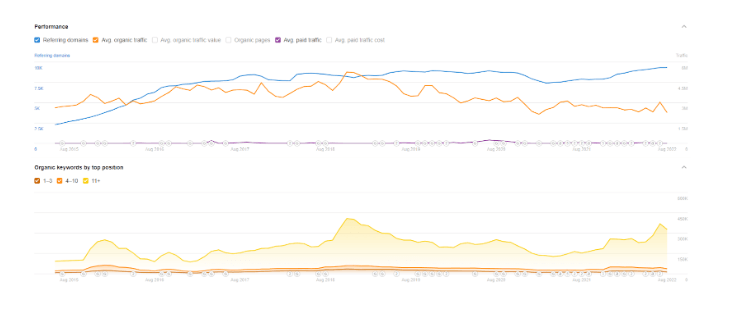 We can see that the brand's organic traffic performance has decreased since 2021. It saw its growth from June 2022 when the company was bought out but has declined again since July 2022.
The same trend is noted with the organic keywords in positions 1-3 and 4-10. The number grew for a month from June-July 2022 and decreased afterwards.
We can see how the organic keywords and traffic dramatically decreased as per below:

We can notice that the ranking keywords and organic traffic did not impact the website immediately after it was bought, but rather a short time after that.  
ASOS
ASOS is a UK online fashion and cosmetics retailer that was founded in 2000. ASOS promotes a healthy body image, freedom to express oneself, and confidence. The company is following a Model Welfare Policy, which involves ensuring that employees within the company's supply chain are working within safe conditions, reducing risks of modern slavery, and stopping child labour. The retailer sells its own brand's clothing and other brands' products, mainly targeting young adults.
We will review how the ASOS website's traffic has changed in the space of two years from 2020 to 2022 to see if the lockdown spiked its traffic and whether it decreased again in August 2022.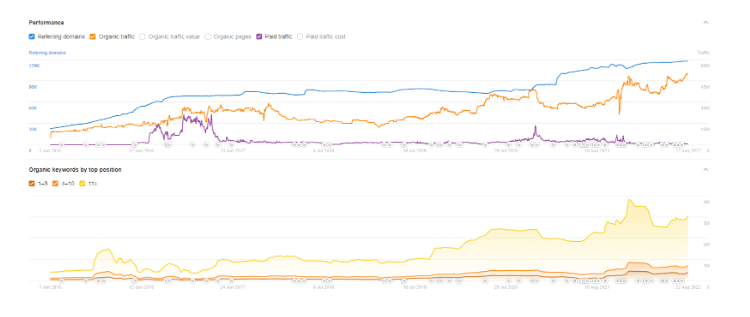 The third-party data above shows that in June 2020 the traffic volume started growing when the UK went into lockdown and eCommerce sales for many fashion brands elevated. As of August 2022, the organic traffic has increased to 49,025,014 in comparison to June 2020, when it was 34,615,347. 

Analysing organic keywords in positions 1-3 and 4-10 as per the above, we can see its elevation in ranking, which is reflected in the website's organic traffic growth.
SHEIN 
SHEIN is a global online fashion and lifestyle retailer that aims to make fashion accessible to all. The company offers women's and men's wear products and states that it applies to manufacturing on-demand business models, which reduces inventory waste. The brand was founded in 2012, and its products are currently supplied in over 150 countries worldwide. SHEIN, like other online fashion retailers mentioned throughout this analysis, aspires to empower individuals to express their individuality.
We will review how the company's organic metrics performance develops. We can see as per the graph below that the website's first increase in organic traffic came in June 2020 at the start of the pandemic, and then the traffic decreased until July 2021, when it reached 2,155,790. Currently, organic traffic is in decline, seeing its volume drop to 1,151,509.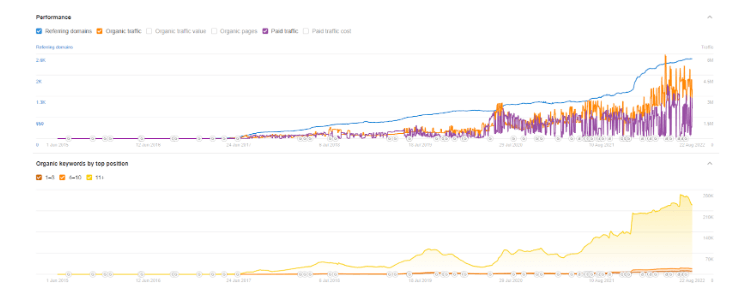 As per the data below, we can also see that the organic traffic decrease reflects the drop in organic keywords by the top position. The brand would benefit from SEO optimisation across its website and keywords to compete with rival brands.

ZARA
ZARA is a Spanish fashion clothing and accessories retailer and one of the biggest well-known international fashion brands, a flagship of Index Group. ZARA offers its customers good quality products for women, men, children and homeware items.
ZARA has recommended itself as a cult brand, and royals and celebrities have worn its items.
The brand's performance metrics below state that its traffic increased slowly in March 2020, reaching 2,838,521 when the first lockdown took place, and eCommerce companies began to optimise their websites better. ZARA's organic traffic in the UK has grown significantly since 2020, reaching 5,761,303 as of August 2022.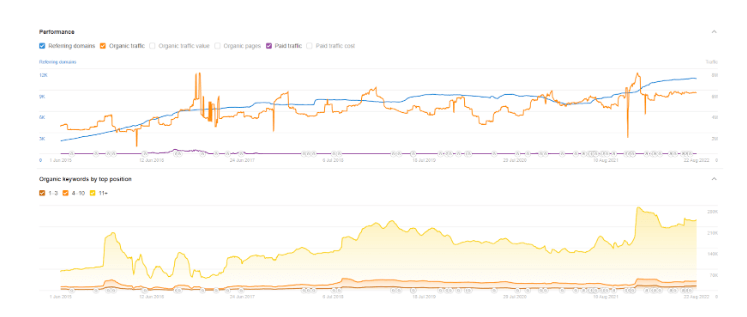 Regarding the keywords in positions 1-3 and 4-10, we can see below that the keywords in top-ranking positions are currently showing healthy growth together with the organic traffic.

Forever21
Forever21 is an American brand founded in Los Angeles in 1984 that offers styles at low pricing for the modern-day consumer. It sells clothing for women, men and children. Forever21 aims to be environmentally friendly, providing a range of garments produced of 100% organically grown cotton. The company uses recyclable and reusable plastic and paper bags within its stores. At its warehouse, the shipment boxes are also get recycled.
As the company's website states, it ensures that the supply chain employees are working in a safe and healthy environment and are being respected and protected.
Analysing average organic traffic for the Forever21 website shows that traffic volume spiked in 2016, 2018, and 2020 during the start of the lockdown in March 2022. There is no presence of organic traffic between the years mentioned. An issue behind it is explained that the brand expanded too rapidly within six years, going from stores in seven countries to 47. The company's main focus was on expanding its number of stores and building bigger spaces. The brand did not concentrate enough on its eCommerce side of the business. However, its target audience is young people who shop more online than in-store.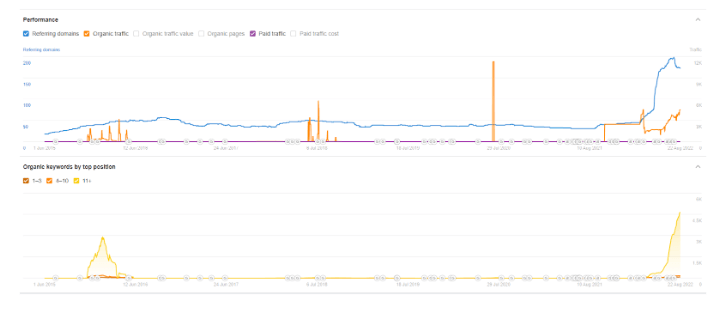 However, as per the data provided below, we can see that Forever21 website performance has improved. Now, it is showing its increase by top ranking positions and traffic value.

Mango
Mango is another Spanish fashion brand with stores in 110 countries and a strong online presence. It was founded in 1984 and offers quality products to women, men, kids, and teens, as well as boasting a range of home products.
The company is currently leaning toward social and environmental sustainability and aims to recycle all polyester used by the business by 2025 and to make all cellulose fibres of a traceable and controlled origin.
Performance metrics of the brand's website do not show a linear graph for its organic traffic development but rather spikes throughout the years. However, its growth started in March 2020 when the UK entered lockdown. It leads to the assumption that the company enhanced its eCommerce SEO practices when there were no revenues generated from sales in physical stores and all fashion companies were trying to generate revenues through sales online.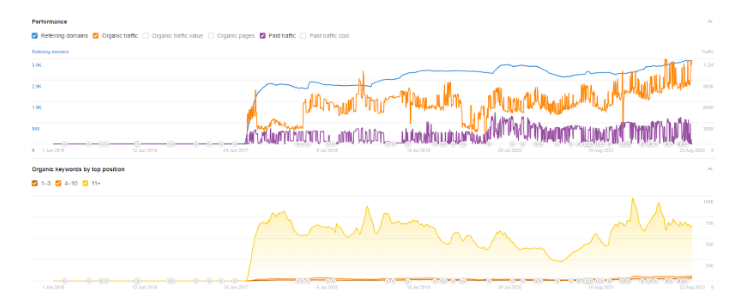 Within a space of a year, Mango organic traffic grew from 8,677,573 to 15,265,449.
Mango's keywords in ranking positions 1-3 and 4-10 reflect its growth with the website's organic traffic.

Nasty Gal
NastyGal was launched in 2006 and is an American fashion retailer that sells outfits and accessories under its brand for young women. The brand also encourages its consumers to be themselves and be confident.
The brand filed for bankruptcy in 2016 and was subsequently purchased by Boohoo Group in 2017. Later in the year, it opened its first shop in London.
Unlike some of its competitors, the brand's organic traffic declined in 2020 and only started increasing again in 2021, as we can see below. It is possible the company did not adapt SEO practices as fast as its rivals with the start of the global pandemic, which would explain the traffic decline.

However, analysing the increase in Nasty Gal's organic traffic, which doubled within a year from 695,447 in August 2021 to 1,322,964 in August 2022, indicates that the website has now been SEO-optimised.

Currently, Its organic keywords by top positions as per the data above are showing that it is also growing with the increase in organic traffic.
Oh Polly
Oh Polly is a fast-growing women's clothing fashion brand that operates in the UK and internationally. The company employs 200 people in the UK and strives to provide high-quality items from ethically supplied providers. The company supports The Brannerson Foundation, a charity based in Cambodia that gives a percentage of its profits to the charity every month. The brand owns 50% of the factories that produce its clothing.
Oh Polly states that it only employs people of legal working age pays its employees fairly, and ensures that they work in a safe environment.
Analysing the performance metrics of Oh Polly's website, we can notice that the first increase in the brand's organic traffic comes in March 2022 at 1,878,793, which is more than double the volume during March 2020 when it was 843,349.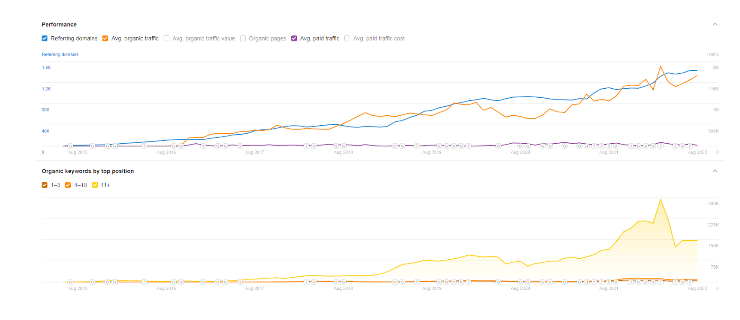 In regards to the top key performing keywords, we can see they started developing in March 2022 with the growth of the organic traffic and the number of organic keywords by top positions continues to increase.

Conclusion 
To summarise our UK online fashion industry analysis, we need to assess the below-ranking keywords in positions 1-3, 4-10, 11-20, 21-30, 31- 40 and 41- 50 taken from third-party data.

The main competition in top ranking keywords is Boohoo, PrettyLittleThing and ASOS, which correlates with best SEO practices.
High-performing UK Online fashion brands: SEO standpoints
Boohoo and PrettyLittleThing is doing well from an SEO standpoint as they do not have any keywords ranking in positions 31- 40 and 41- 50. This indicates strong ranking dominance in search engines' top positions.
The high-performing brands also use call-to-action on their landing pages such as: 'Get an extra 10% off code', 'Shop now; (PrettyLittleThing); 'Shop women', and 'Shop men'(Asos); 'Buy one get one free '(Boohoo).
The top performers are well-optimised for internal linking.
Low-performing UK online fashion brands: SEO standpoints
One of the reasons that low-performing UK online fashion brands are not ranking as well as their competitors are because of poor metadata optimisation. Most meta descriptions on low-performers websites are over 200 characters, which are not fully displayed in search engines, and don't contain a call-to-action inviting to click the URL.
The low-performing UK online fashion brands also lack internal backlinks, making it difficult for search engines to understand the website's structure and could lead to a high bounce rate.