Travel SEO for SMEs: Seize market gap and compete with household names
For SMEs, it might feel impossible to be able to compete with big businesses and their large SEO budgets, but there is still room for opportunity in the playing field.
While larger companies might be taking the highway, you can take the scenic route to success through strategic content.
The Road to success
The chances are that large corporations won't task their expert team members with content crafting, but instead, will hire an agency to do it or will assign content to in-house writers.
On the other hand, a small company is more likely to have employees of all levels contributing to the website, including the most experienced specialists.
More prominent corporations choose to focus on topics related to the search terms with the highest traffic.
However, this is where your small company has a chance to outsmart the big boys — with longtail user search phrases and more extensive topical areas.
A great industry to illustrate this market gap is tourism.
Nowadays, people travel more than ever, and with the advancements of high-speed trains, and plans for hypersonic aeroplanes, the industry is not going to decline anytime soon.
A changing industry
That said, however, the days when people sought travel agency help are disappearing.
A study recent study found that 47% of British holidaymakers had not visited a travel agent branch in the past ten years.
And the dramatic decline is due to increasing online travel bookings, as more than 70% of people now book their holidays online.
With this in mind, people are not only searching for holidays, but they are also researching them with longtail search terms, and looking at niche topics, which is why keywords and user search journeys play significant roles in SEO strategies.
Deep keyword research
If you're a small company and realistically know you won't be able to outrank travel giants for keywords like "madeira trip", put yourself in user's thought process and analyse what specific topic they might be looking for.
Typically, for a travel destination, there are several sub-topics people research along with the main keyword, which would look something like:
Madeira +
Cities to visit
Things to do
Best beaches
Scenic routes
The best month to visit
Things to do with kids
Free things to do
Hiking routes
Whale watching
Guided tours
Explore further to find even more topics. With longtail keywords, you will never be short of new content ideas.
To do this, you can use research tools such as Mangools, AHREFS, and KWFinder to find out what specific topics people are researching.
Optimising content for featured snippets
Search engines, and Google, in particular, are constantly looking at new ways of providing content to users. Featured snippets appear between paid ads and organic results in an answer box.
To illustrate, for the search term "last-minute holidays to Madeira", the selected search result in the featured snippet is: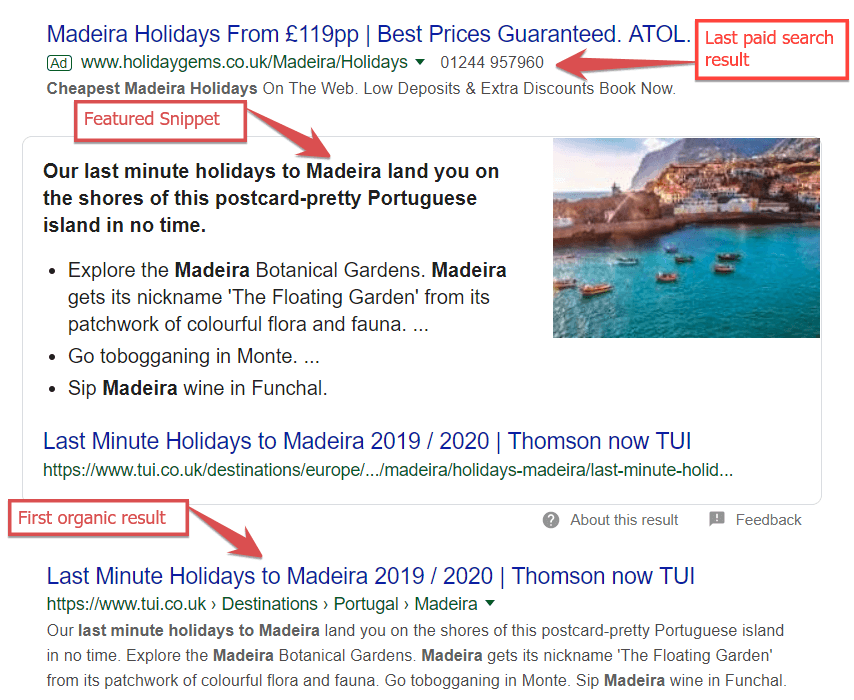 You can also work to get your content featured in the rich snippet results, such as the answers to "People also ask".
As you can see, The Crazy Tourist's article on the 15 best things to do in Madeira (Portugal), has been featured in an answer box.
There are multiple types of featured snippets that you could be included within:
Paragraph snippets
Numbered list snippets
Bulleted list snippets
Table snippets
YouTube snippets
To learn about featured snippets in more detail, visit our blog Optimising your content for featured snippets and preparing for the future.
Building signals and visibility
Use the fact that you are a part of a small business venture in your advantage.
Bloggers, influencers, and third-party websites will be more inclined to collaborate with you as you can contact them through senior members of your team.
Signal and exposure building strategies are abundant, think outside of the apparent influencer fishing by using:
Case studies and testimonials
Surveys and data
Charities, associations, and clubs
Manufacturers and suppliers
Business news and awards
E-books, online magazines, and directories
Vouchers and discount codes
Taking risks
The bigger the corporation, the higher the stakes are for damaged reputation, public opinion, or bad press.
As a small or medium business, your brand can afford to take creative marketing risks.
Similarly, you can jump on hot topics and cover the latest news in the travel industry or your business niche. In contrast, content for big companies will go through several steps of reviewing and approval.