Here is why SEO is increasingly important for transport and logistics companies
As a transportation, freight forwarding, or logistics company, you are probably no stranger to various abbreviations such as FOB, CIF, or DAT. However, SEO may not yet be in your vocabulary, but it should be.
Search engine optimisation or SEO is the complex of activities targeting your business's growth in the search engine result pages.
Having a strong digital presence and high-ranking position in the Google organic search results can make a million-pound difference, especially in a high stakes industry such as transport and logistics.
How can SEO benefit transport and logistics companies?
Whether you deal with warehousing, aviation, maritime, rail or road transport or the logistics between manufacturers and retailers, the market is becoming increasingly saturated.
Ultimately, this is making it more challenging to stand out amongst the competitors. Especially if you are a start-up, it can seem nearly impossible to achieve a high-ranking position on the first page of Google.
You may be wondering, how exactly can search engine optimisation help transport and logistics companies?
Here are the top SEO elements that can benefit your company.
Optimising your content marketing through keyword research
For very technical industries such as transport, search engine trends are not as apparent as for seasonal industries such as fashion or gardening.
Using keyword research, it is possible to update your transport company's website content to make it more relevant and informative.
SEO optimisation helps boost topical relevancy for the certain topic of keywords you are targeting. This can go on to increase rankings for keywords relevant to your business and will therefore contribute to the algorithm and increase its position in the search engine result pages.
If your website has a large volume of content, but none of it contains the target keywords; your blogs, guides, FAQs, or other materials such as infographics will just get lost in the sea that is the Google database.
Equally, the knowledge can be further used as a reference for pay per click (PPC) campaigns in Google Ads.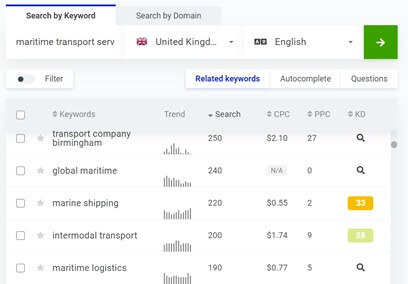 Analysing and getting ahead of competitors in the logistics industry
To further improve your competitiveness in the industry, by using a variety of search engine optimisation tools, it is possible to identify content gaps between a transport company and their closest search competitors.
Once this has been identified, a strategy can be created to bridge this gap for a more competitive website.
For example, the below illustration represents the common and unique keywords that one of the world's leading transport and logistics service providers (DHL website) has with one of their closest search competitors (transglobalexpress.co.uk).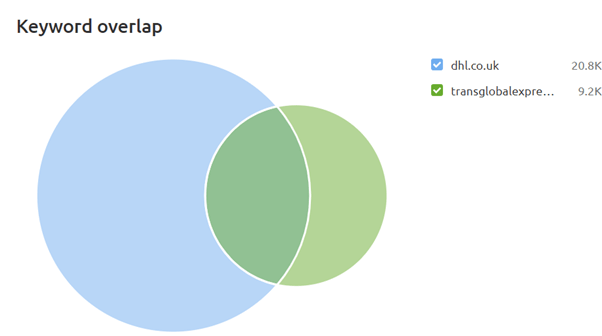 The graph above shows that outside the overlap between the two companies are thousands of potential keyword opportunities for DHL to generate new leads against its competitor Transglobal Express.
Equally, SEO competitor analysis can determine which competitors are the most competitive in the search realm. For example, in the case of DHL, in an organic Google search, the domain parcelmonkey.co.uk appears to be a more visible domain ranking for more keyword than other competitors.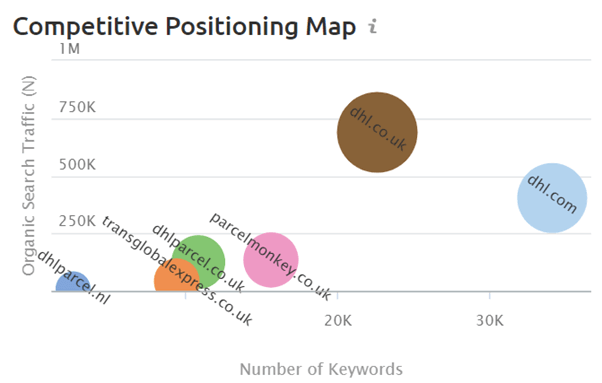 Industry trend analysis and SEO data-led strategy to push services at the right time
Perhaps you are looking to expand your services, but don't know where to start or what is worth investing your resources in.
Are you looking to shift your focus on a specific area of your business, but are lacking factual information to base your decisions on?
Search trend analysis offers a data-led way to plan to branch out into new services strategically or to match your websites offer with a new demand.
To help illustrate this, the below chart represents the search trends for the search term "boat transport". The graph shows the average monthly search volume has had a consistent seasonal trend. However, it has significantly increased in the last quarter from June till August 2020.

As the air and road transport is experiencing severe delays due to the current pandemic environment, more potential customers are looking for maritime transport solutions.
In this case, SEO can provide insights into the new demand.
More importantly, SEO can give strategic solutions on how to optimise logistics and transport service provider websites on technical, content, and user experience level, in order to capture as much of the new demand as possible and help generate leads.
By creating targeted, keyword optimised landing pages with fresh and rich content targeting "boat transport" and related keywords, it is possible to increase your website's ranking position.
Alongside this, you can drive relevant traffic to the website, generate new leads, and ultimately contribute to the overall business performance.
International SEO for international transport and logistics companies
SEO is significant when it comes to transport and logistics companies operating across multiple markets.
Firstly, average monthly keyword search volumes vary not only with search trends and seasons but also depending on the geographic market and language you are targeting, ensuring you target the right services for the right country.
Secondly, optimising a multilingual website can be seen as bridging the gap between your enterprise and potential client that is using a completely different language for search.
International SEO stretches from Hreflang implementation to communicate to Google what page needs to be served to each user, to complex keyword mappings for content optimisation in different languages.
International and multilingual SEO also includes optimising transport and logistics websites for specific search engines, such as Baidu or Yandex, that operate differently than Google.
Through the combination of technical, content, keyword, and international SEO optimisation and research, transport and logistics service providers can increase their organic search performance.
The gained search trend knowledge can also be used to their advantage to continuously keep ahead of the market.