Industry Analysis – meal subscription boxes (US)
When it comes to dining in, recipe boxes have become the go-to for those wanting to enjoy the restaurant experience in their own home. The convenience of the meal delivery kit has fuelled major growth for this market, with many consumers now opting for this choice over traditional grocery delivery.
The global meal kit delivery services market had an estimated value of 15 billion in 2021 and is expected to grow by 17% by 2030. Meal kits provide the perfect opportunity to cook up a dish that could rival your favorite restaurant and at a fraction of the cost.
We're going to look at the key players in the meal delivery kit industry in the US and see how these sites are performing from an SEO perspective and how the pandemic has altered the landscape for this market.   
The Meal Kit Industry
With restaurants and eateries having to close due to Covid lockdowns, many turned to the recipe box to bring the restaurant experience to their own homes. 
As we can see in the Google Trends graph below, this drove an increase in searches for meal delivery kits. 
What's interesting about this trend is that it appears to have remained. Even with restaurants opening since the lockdowns, searches have stayed relatively high compared to the pre-lockdown period.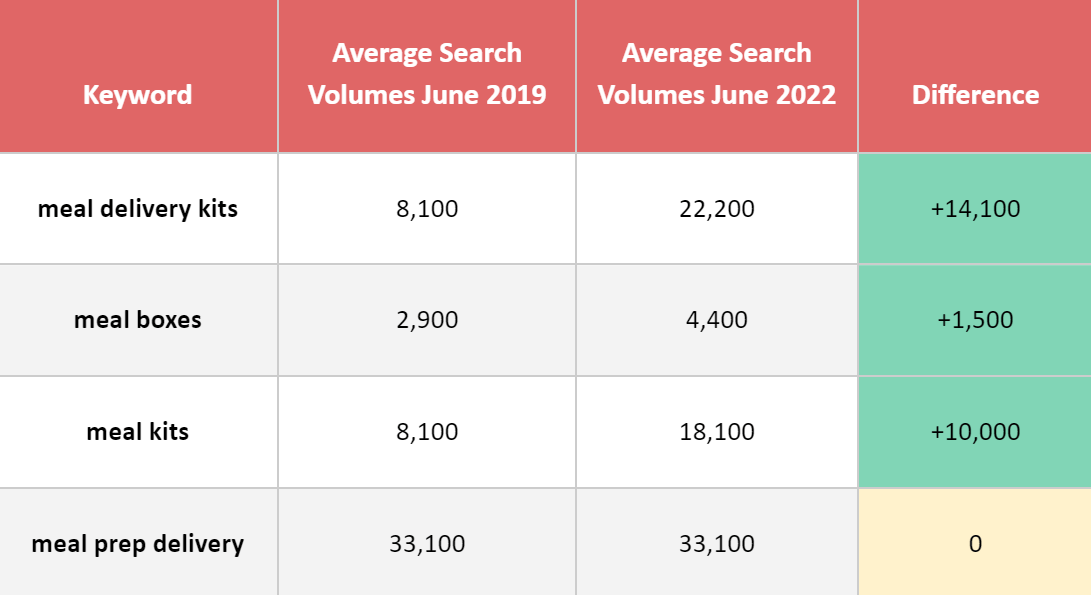 Since the introduction of meal kits and recipe boxes, interest in more specific offerings have increased too. Many consumers are now searching for meal kits that fit into their dietary requirements, with searches for healthy, gluten-free, vegan, and keto varieties increasing in recent years.




Hello Fresh
Hello Fresh was one of the first to offer this type of service. The company has been around since 2011 and has a wide offering of customizable kits to suit all tastes.
Keywords in positions 1 to 3 have seen steady growth since 2017, with a slight dip in October 2018. This may have been caused by the 'small' update that occurred on Google's birthday at the end of September in the same year, with a few keyword dips for high search volume keywords such as 'home food delivery', 'meal boxes', and 'meals delivered'. This was closely followed by a quick recovery.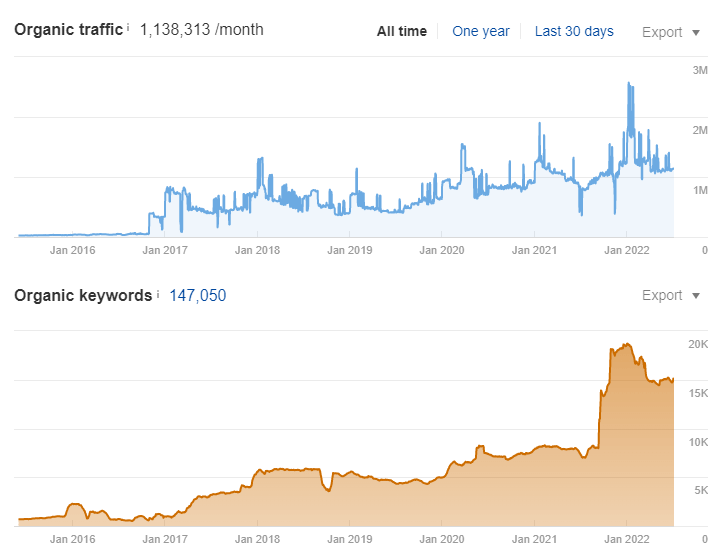 As we can see in January 2022, Hello Fresh keywords in positions 1 to 3 significantly increased in line with the demand in growth around the same period.  
The site currently ranks 2nd for the term 'meal delivery kits' (July 2022) and also ranks in the top 3 for other high search volume terms such as 'meal delivery', 'meal kits', and 'meal prep delivery'.
Hello Fresh's Supporting Content
Hello Fresh has a wealth of supporting content, with the site providing around 2,500 recipes. Currently, these pages rank for around 116,000 non-branded keywords, with around 2,000 of these in positions 1 to 3.
Blue Apron
Another key player in the market is Blue Apron, providing a range of meal kits but with the added offering of a monthly wine subscription too.
Looking at estimated organic traffic over time, Blue Apron appears to decline quite significantly from January 2017 onwards, shortly after the Intrusive Interstitial Penalty was released.

Using Wayback Machine, we can see that the site was using popups for offers and promotions — a possible reason for the drop we can see in the graph above.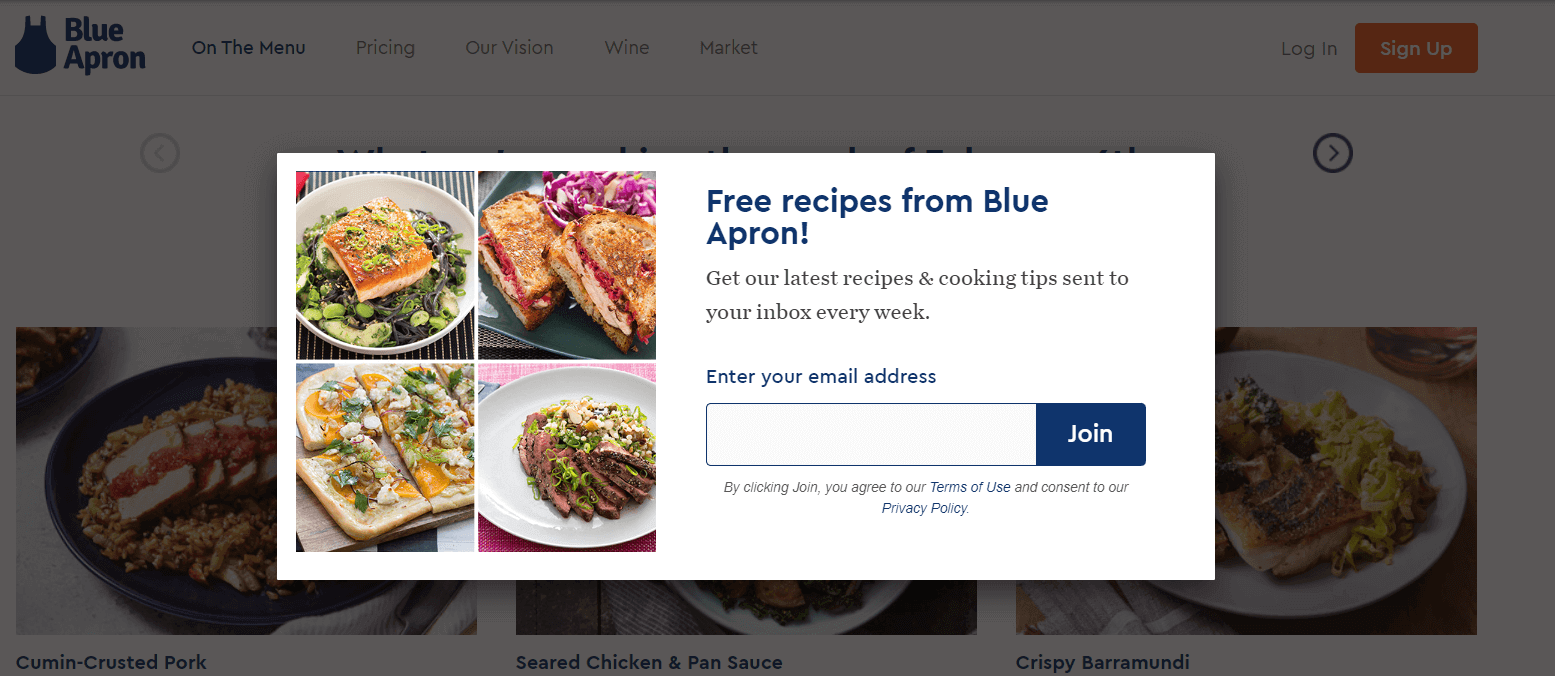 In 2017, they also saw a decrease in branded searches. In the Google Trends graph below, we can see from around July 2017, searches for Blue Apron declined throughout the rest of the year, remaining relatively low ever since.

Although the site appears to have seen negative performance in recent times, Blue Apron currently ranks on top for 'meal delivery kits' and appears in positions 1 to 3 for 'meal prep services', 'meal kits', and 'home delivery meals'.
Blue Apron's Supporting Content
A site: search in the SERPs currently shows around 10,000 results for the recipes section on Blue Apron, with these pages collectively ranking for roughly 1,600 keywords in positions 1 to 3.
Marley Spoon
Marley Spoon is a kit that utilizes 6-step recipes from Martha Stewart, promoting a range of 45 different meals, including vegan, gluten-free, and low-calorie. 
Looking at estimated organic traffic, this appears to remain quite steady, with a slight decline around the May 2020 core update and again after the Passage Ranking update in February 2021. 

Regarding current keyword rankings, Marley Spoon doesn't appear to perform well for terms that other key players are ranking for, averaging position 42 for 'meal delivery kits' and position 93 for 'meal prep delivery'.
Marley Spoon's Supporting Content
The blog, including the recipe section, also seems to underperform in the rankings compared to competitors, with just 450 keywords in positions 1 to 3 for their recipes and supporting content.
Home Chef
Home Chef has been offering its kits since 2013, providing a vast range of meals including vegetarian and low carb, with options to upgrade, swap, or double up on the protein sources within each meal.
The site has seen a steady increase for keywords in positions 1 to 3 since 2016. However, after the November spam update, a large number of these keywords seem to have dropped and have continued to follow suit throughout the first half of 2022.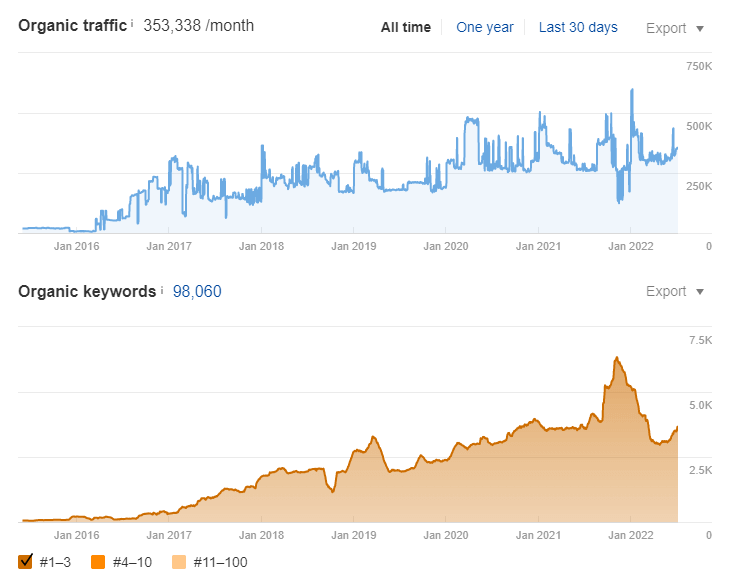 Looking at referring domains for Home Chef, this number seems to increase significantly around the same time as the spam update, a possible reason for the drop in high-ranking terms.

In recent weeks, the site appears to be making a recovery from the update, currently ranking 4th for 'meal delivery kits', as well as further high rankings for keywords such as 'meal delivery services', 'meal kit delivery', 'meal delivery', 'meal kit', and 'meals delivered'.
Home Chef's Supporting Content
In terms of supporting content, Home Chef provides a range of recipes, with this section of the site ranking for around 1,800 keywords in positions 1 to 3.
Alongside the recipe section, Home Chef also has a separate blog, which contains recipes, cooking tips, and FAQ-style content. Looking at keywords, this blog only appears to rank for 13 keywords in the top 3 positions. Looking back at previous years, it seems to have struggled when it comes to organic performance. 

Green Chef
A relatively new player within the meal kit market is Green Chef. An organic certified company, Green Chef promotes their kits as healthy and organic. 
Looking at estimated organic traffic, Green Chef saw a significant increase in June 2022, going from around 100 to 100,000 estimated visits in the space of just a few weeks.
Since then, the site appears to have kept at this performance rate, alongside high rankings for a number of search terms specific to their product range. 
Currently, Green Chef is positioned 1st for 'organic meal delivery', and has top spots for 'keto meal kits' and 'keto meals delivered'.
Green Chef's Supporting Content
Looking at Green Chef's supporting content, it doesn't seem to rank well for recipe keywords. However, this could be due to their recipe cards being delivered in PDF format.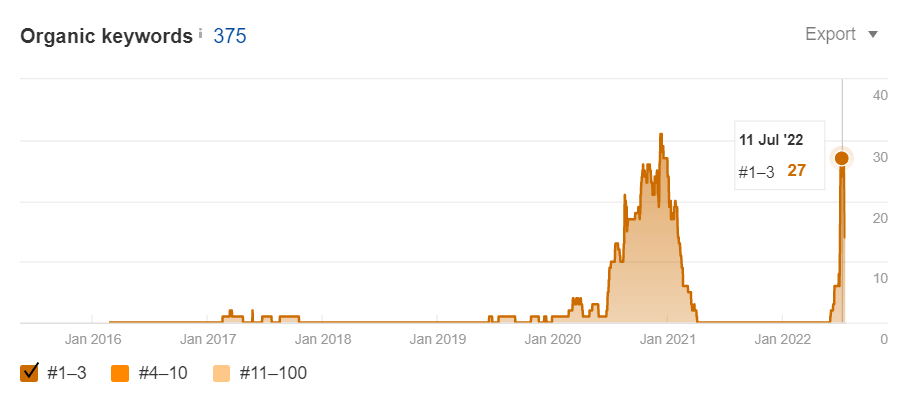 But even without supporting content rankings, Green Chef appears to be performing well in the organic, keto, and paleo segment of the meal kit subscription market in the US. 
It appears that Hello Fresh is dominating the organic search landscape when it comes to meal delivery kits in the US, although competitors are close behind. With the industry set to grow, there seems to be plenty of opportunities for key players to further compete within this sector and increase their market share.