How to decrease eCommerce product returns through SEO
Research into online shopping habits found out that almost one-third of shoppers deliberately purchase more products than they intend to keep.
With that statistic in mind, reducing eCommerce product returns may seem like mission impossible.
However, 19% of respondents answered that they tend to order multiple sizes or colour versions of the same item, to decide on their choice upon receiving it.
With returns and exchanges costing online merchants time and money resources, these numbers could be significantly reduced through specific SEO content optimisation techniques.
Here are four SEO activities that have the potential to not only help your shop climb the search engine result page rankings and stand out amongst the competition, but also reduce unnecessary and costly product returns and exchanges.
The below is an optimisation example for eCommerce fashion retailers; however, a similar approach can be applied to other industries, such as electronics, food and beverages, and many more.
Rewrite product listings through keyword research
The "serial returners" consumer category may never go extinct, especially with influencers and online content creators generating their income through online shopping "hauls" on platforms such as YouTube and Instagram.
However, you can target the shopper base that would appreciate not needing to return or exchange a product.
Research conducted on the eCommerce giant Amazon found that a hefty 43% of online shoppers stated poor product descriptions as the most irritating aspect of online shopping.
The solution is expanding your product descriptions through SEO keyword research.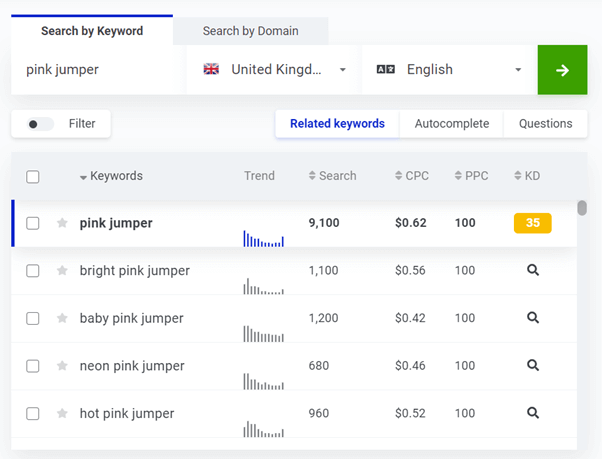 Research finds that people are looking for products in particular colours, materials, and styles.
To illustrate, if your product is entitled "pink jumper", it might end up being returned. If the person intended to purchase a bright pink jumper or a baby pink jumper, but your product was coloured in a hot pink tone, it will not suit their needs.
Same applies to textures (see the "pink fluffy jumper" example), materials, quality, size, and fit.
As you can see in the above image, third party keyword research has found that in the UK currently on average 1,200 people are searching for a "baby pink jumper".
By including the most relevant and searched terms in your carefully crafted product titles and descriptions, you will hit two birds with one stone.
You will reduce the chance of any misunderstandings through more accurate information and communication with your customers.
Also, you will get your products ranking higher for these search terms through increased relevancy in search engines.
Updated product listings are crucial for reducing returns, especially beefing them up with as much useful information as possible, without going overboard, which is the main point of communication about the product with your customer.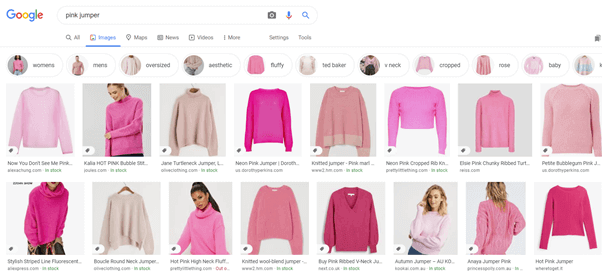 For inspiration, it is worth looking at what products are already ranking highly and how these websites have worded the product titles and descriptions.
Have a look at the image search results above, as you can see, the products in the top results all have very targeted and keyword optimised titles, such as:
Hot pink bubble stitch sleeve jumper
Neon pink cropped rib knit jumper
Pink chunky ribbed turtleneck jumper
Dusty pink crew-neck jumper
Carefully create and optimise product images
As the above image showcases, there can be so many shades, styles, forms, lengths, and fit of seemingly simple product such as a pink jumper.
Now that you have written out to your potential customer a detailed product description and title, the next step is to ensure that it is accompanied with high-quality visuals.
Product photos and videos will not only provide more information to the user but also participate in image search in search engines.
Make sure your photos are of high quality, compressed for site speed, and shot in a way that most accurately reflects the described qualities.
As the shopping season including Christmas, Black Friday and even January sales are approaching, you want to attract more shoppers, whilst receiving as little as possible returns, therefore this is the time to optimise your product pages.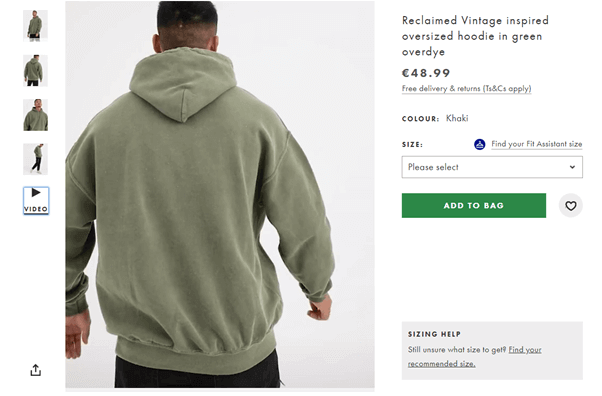 Lack of photos and videos was doomed as irritating by 20% of Amazon survey respondents. Take the example of ASOS – the online fashion eCommerce website is successful at competing with brick and mortar by providing product images and videos, as well as customer reviews, which are important to 7% of customers.
Add product reviews
Product reviews not only will provide more info to your potential customers and help to make a considerate purchasing decision, therefore reducing return rate, but also help your overall user experience and provide a reference to your customers.
User experience plays a role in SEO as well, by serving as a fresh content published on your website, and Google algorithm is known for favouring fresh content.
Reviews can also increase your website's social sharing, which can eventually lead to organically building positive signals on third party websites.
Create an informative FAQ to target featured snippets and "people also ask"
Add an FAQ section that answers common questions, especially about your returns policy, sizing, delivery time, and other important information you wish to include, such as caring for your products.
The more useful information you provide, the fewer misunderstandings that may lead to a product return you will have.
Also, from an SEO perspective, your FAQ answers will be competing for the featured snippets in Google search.
If you have just started a new brand or online store and your website is not yet anywhere near the top of SERPs, you have a chance to organically get your FAQ page at the top of first search result page in the featured snippet or the "people also ask" section.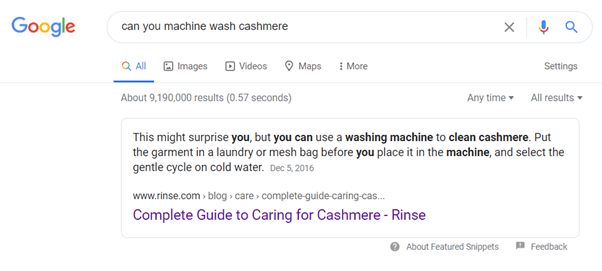 For example, suppose your eCommerce fashion store specialises in luxury cashmere clothing. In that case, you may create FAQs for the below questions, and potentially have your web pages visible in featured snippets and "people also ask" section.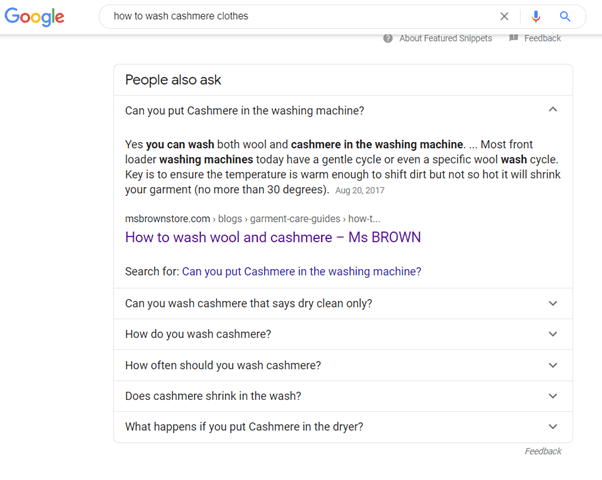 Make sure to analyse any correlation between the changes you make and the returns you receive over a set period, to establish whether your product listing rewrite or image updating has been successful and helpful.