How long does it take Google to see changes to my website?
TL;DR:
It can take up to several months for Google to see changes to your website.
Core algorithm updates happen all the time; be aware of them.
A general reminder that SEO takes time and patience.
Reminder! SEO does not yield instant results
This is widespread knowledge within the industry, and something that is taught to newcomers/clients as one of the founding principles, and we tend to refer to it as the 'hockey stick' effect: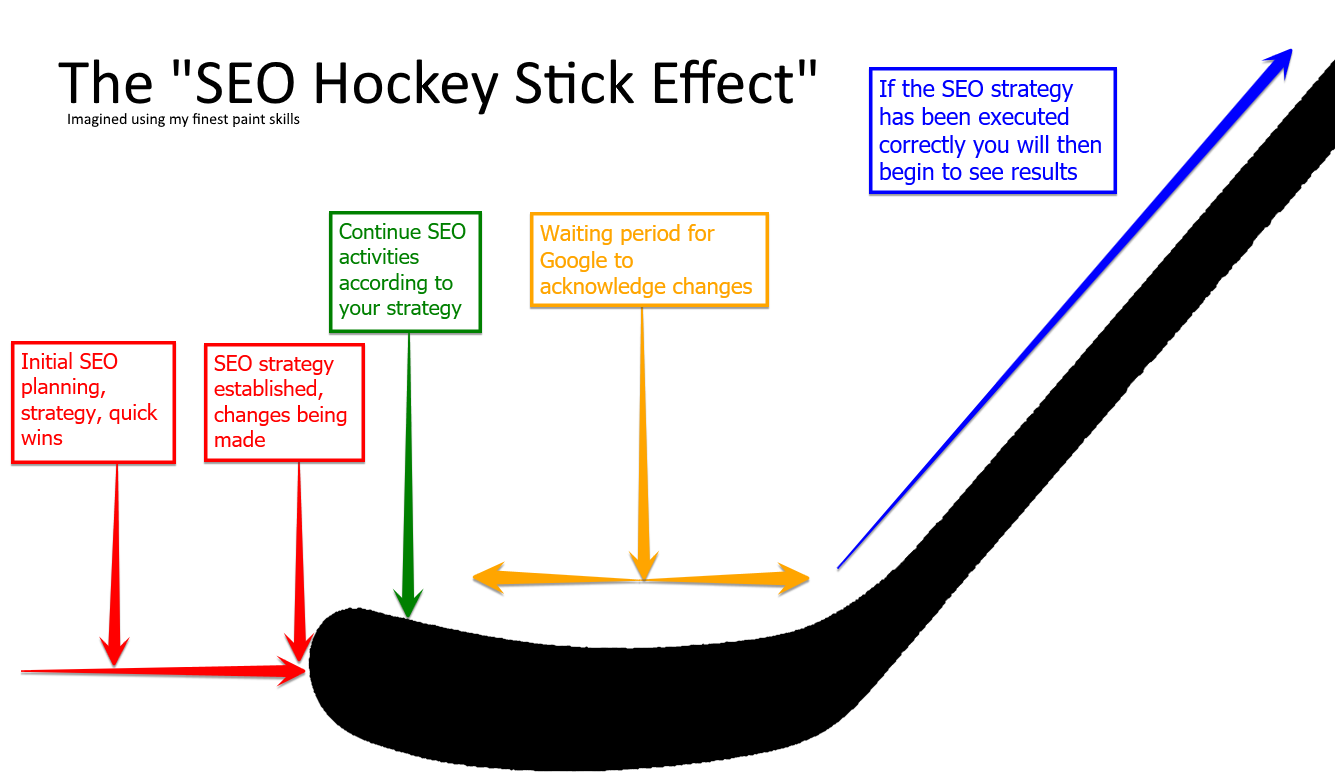 Initially you won't see much (if any) organic improvements to your website that are aligned to your strategy.
Things will remain at the same level for [X] period of time (relative to the size of the website, vertical etc.) and then at some point all the SEO efforts you've put in will kick in and you will be rewarded with greater SERP exposure for certain keywords.
How long does it take for changes to be reflected in the SERPs?
It varies for each website depending on it's vertical, location, and more.
Even the most hardcore technical SEOs could not tell you an exact time that Google will visit your website and update its record in its index.
This leads on to the point of this article, as during a recent Google Hangouts conversation with John Mueller, this very question was raised (~45 min mark):
Has a Google core algorithm boosted my website or my SEO strategy?
While you're optimising your site, at the same time, Google could be plotting to release a core algorithm update, which can impact your rankings.
Often, you could be mistaken in thinking that it's something you did that affected your rankings (negative or positive), but in reality, it's a Google update.
It's important to keep up to date with algorithm updates therefore, and when one is released, and you see changes happening to your website, you should check  to see if it's affected any of your competitors too.
We have seen a good example of this in one of our clients. While we have been constantly testing new strategies and ideas to increase their organic traffic, one day we saw a tremendous increase in traffic overnight, we hadn't particularly changed much: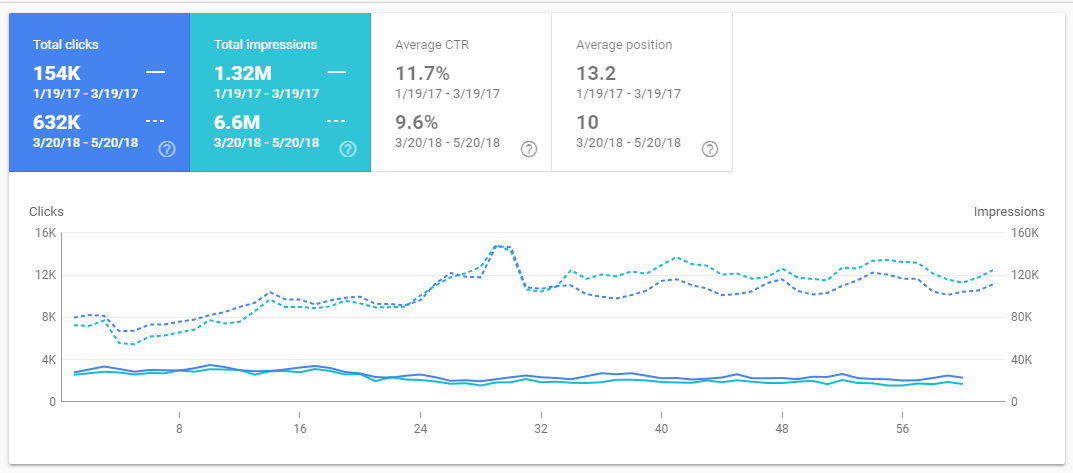 The above is a YoY screenshot of traffic starting from mid-March to now.
This is not a seasonal trend, and before the mid-March increase, there had been a gradual rise, but nothing like quadruple boost we saw overnight.
For reference here Is a comparison for before mid-March: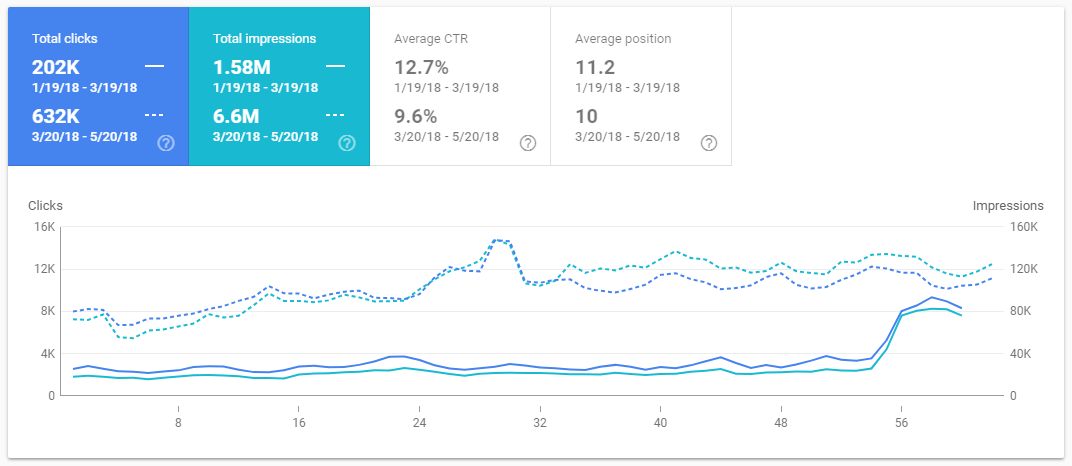 Guess what?
It turns out Google released a core quality algorithm update at this exact time.
This isn't to say "oh, just sit there and do nothing and a Google update will send your site through the ranking's roof" — if we hadn't been constantly improving the site over time we could have been on the other side of this quality update and we would have been punished for it instead.
It's a lengthy process to recrawl, reindex, and reprocess a site
And to finally get to the point of this article… During the video above, when asked about how long it takes changes to be acknowledged, Muller gives the following response:
"Usually — so especially if you have a bigger website — then it takes quite a bit of time for algorithms to adjust to bigger changes on the website.
"So that's something where I wouldn't expect to see fast changes. It's more a matter of like, maybe, several months over which it takes for us to recrawl, reindex, reprocess the website to understand how it has changed how we need to change how we show it in the search results.
"So, if you made changes on one day and, like, a week later you start seeing changes in the search results — and that was also a date that other people mentioned as having bigger changes that they were seeing — then probably that's not related to the changes that you made.
"Usually you'd really have, like, this multi-month period of things kind of subtly changing over time — rather than this one big change."
SEO takes time and it's not a perfect science, especially with Google testing and releasing updates all the time.
However, if you follow Google's ethos of making your website as user friendly as possible; you generally can't go disastrously wrong.