Exploring & Deploying Tactical Technical SEO Strategies on High Content Sites
When delving into the plethora of online resources covering the implementation of both strategic and technical SEO tactics, it becomes quite apparent that the core research is geared more to e-commerce platforms.
This brings into the question; if your site is a high content informational hub or key news online publication, what can you directly action to drive user numbers and engagement organically?
In this post, we will explore the numerous ways you can turn your technical SEO checklist from a box-ticking exercise to a tactically positioned long-term and short-term strategy. More specifically, we will look at how these elements can be consolidated specifically to high content platforms that are run by both centralised and decentralised web teams.
As we have highlighted above, when looking into the realm of SEO support for your site, it may be that the advice being found is more tailored to e-commerce or service providing sites with a clear conversion funnel path and desired outcome in mind.
This may be in the form of sites with extensive product SKU's or a more bespoke non-tangible service provider with a low number of core conversion-focused URLs.
When comparing these sites to a more daily updated content hub or national online news publication, we can identify three core characteristics that need to be taken into full consideration when striving for technical SEO compliance and user growth.
Frequency of expansion
As the site grows on a page by page level each day, it is vital that we ensure existing content is not lost as orphaned pages, but also new content is discovered as quickly and efficiently as possible.
Capturing Organic Opportunity
As news trends daily, it is crucial as part of a more comprehensive organic strategy to understand the core and more broad search terms users may use to find the site. Once these trends have been identified, a more consistent and cemented approach can be taken on your on-page optimisation activities to both capture and retain this traffic on a long-term basis.
Redirect Rules
As can be imagined on a large-scale content site, any potential issues may be over-inflated due to the number of pages within each area/ template that have been flagged by Google.
A strong example of this would be the implementation of redirects and addressing any redirect chains as part of a technical SEO audit.
With more manageable sites, these may be tackled on an individual basis or mass redirect rules applied through product filtering. However, based on your existing article structure, this may not be viable with high resource reviews required to ensure the desired accuracy.
Tactical Technical SEO
Based on the above considerations, we have highlighted five key SEO areas that we deem to be more relevant to high content sites and more importantly, how these should be adjusted to maximise their implementation impact.
URL structure
One of the highest priority technical actions is to review your current URL structure. It is always advisable that your article/post pages live in a subfolder that is located one away from the root. This folder should quickly and easily identify these pages as standalone, hence be named accordingly, such as /articles/ or /posts/.
This is to prevent any of them from being accessed through various areas of the site, hence causing duplication. Another secondary benefit is the ability to quickly identify how your article pages are performing as a group as well as extracting the top performers to analyse existing and additional SEO value being generated by them.
Centralised vs Decentralised
The above approach will be heavily dependent on what type of site you currently have. If you are working with a centralised site, then keeping your key pages as close to the root is pivotal in passing PageRank and driving the desired ranking relevancy signals. This also forms a key aspect in our approach to the programmatic linking strategies currently being utilised.
It is often suggested that large content-based sites are utilising a decentralised approach, where all pages have the potential to drive ranking performance as well as converting users such as subscribing or sharing the content. Reviewing the internal linking structure currently in place as well as high performing pages with low CheiRank is vital to driving ranking performance.
Schema Use
The implementation of relevant schema mark-up is a crucial aspect in raising your sites current presence with Google's search engine result pages. Depending on the type of content you are publishing, the main schema mark-ups to implement could be Author, Reviews, Images, and Music. Regardless of what schema you decide to implement, it is always recommended that the required audit is carried out to ensure full compliance and effective implementation.
Managing Your Meta
One of the more fundamental aspects of SEO, with great amounts of article/blog pages, comes great chances of duplication issues and errors. When working through these types of actions on smaller sites, it is much easier to manage and address; however, content hubs getting it correct as quickly as possible and remaining consistent with this approach is key.
Internal training for content writers/publishers is one of the most effective ways of addressing this issue as well as potentially assisting in driving reader visibility. If meta for posts is written in a more search-oriented manner, it can help target more key search terms hence potentially drive ranking performance further impacting organic traffic being driven to each post.
Influencing Site Indexability
Another critical aspect of a large content site is ensuring search engines can find, crawl and index all valuable pages as part of your SEO strategy. As we have previously identified, our article pages tend to hold the core SEO opportunity; however, they can often be orphaned or buried too deep within our site architecture.
The size of our site, combined with a few key technical SEO issues such as redirect loops can often lead to index bloat and wasted crawl budget, resulting in an overall missed SEO opportunity. Implementing a handful of the above elements can provide significant benefit in how our site is indexed; however, one of the essential elements in our XML sitemap setup and configuration.
Implementing the previously recommended article structure enables us to create dedicated sitemaps based on the importance of each area. A dynamically generated sitemap containing all old and newly published articles further increases the chances of Google crawling and indexing these pages to extract the SEO opportunity further.
Segmented SEO Strategies
We have now reviewed and explored a few core technical SEO aspects of large content sites; however, we will now review the second key aspect of any successful SEO campaign. Based on our above site segmentation, we can now directly apply select onsite optimisation strategies to each section on an individual basis. Some of the core and high priority areas to focus on at a folder level would be:
Article URLs
These pages should be optimised in-line with how you envisage a reader would search for a topic subject.
Bespoke and research-led metadata should be a key focus, including more tailored Meta descriptions as a way of connecting the reader with desired content as quickly as possible. It is recommended that a retention strategy is in place on an article level basis; this is a more general way of retaining reader engagement as well as positively impacting these behavioural metrics.
Tag URLs
Your tag URLs should further complement your retention strategy, enabling a user to quickly and efficiently navigate from article to article within the same segment. Tag URLs can also be used as part of a dynamically generated search results strategy.
Where we are seeing trends in how users search the site dedicated landing pages can be cared for and further optimised as a responsive way of capturing this existing search traffic.
Category URLs
Category URLs should form the core basis for how a user finds your site when using more general search terms, more specific searches may return the individual article page if optimised correctly. On this basis, your core category pages should go through a dedicated on-page optimisation process, ensuring that they are targeting current SEO opportunities.
When implementing your category pages, it is recommended that a balance between the number of dedicated pages is reviewed. This is to avoid missing high trending search opportunities as well as creating vast numbers of thin pages which can be more detrimental than beneficial in capturing search traffic.
Securing a Starting Point
Based on our vast experience in the industry and more importantly in working with high content-oriented sites we have developed an internal tool that allows us to establish each page's overall organic value contribution to the site.
When running our API based internal content valuation audit, we can quickly and efficiently establish where each page sits within our valuation matrix meaning the above strategies can be applied in a much more dedicated rather than blanketed manner.
Following the analysis of the data, we are then able to assign each page a direct strategy. This can be alternated between both technical SEO compliance as well as SEO strategy aspects, enabling us to establish an immediate but data-led starting point to any SEO campaign.
When implementing all the above aspects in the required manner, it is possible to see exceptional organic reader growth. The below extract is based on a full site migration, including compliance and strategy support for an internationally recognised online magazine (see the full case study here).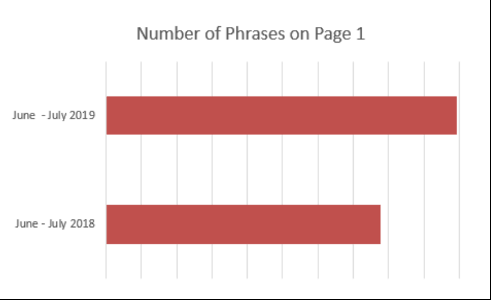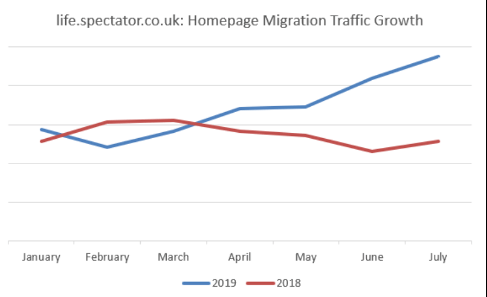 If you have any questions regarding the above or require further guidance on extracting your site's full organic potential, please get in touch.