Are you using new data from the new Search Console to drive business intelligence?
On 6 February Google's Search Console beta was made available to all sites after a limited release in January.
One of the largest changes in the console is the fact that site owners are now privy to 16 months of historical search analytics data, rather than the three months that they were allocated before.
This is something that webmasters have long craved so that they could analyse brand vs. non-brand traffic metrics for aspects such as seasonal changes, which is particularly helpful if you happen to have a clothing or skiing site for example.
Writing in the original announcement, Google Engineers said:
Over the years, users have been consistent in asking us for more data in Search Analytics. With the new report, you'll have 16 months of data, to make analyzing longer-term trends easier and enable year-over-year comparisons. In the near future, this data will also be available via the Search Console API.
We have no doubt that the majority of businesses will now have switched to the new Search Console and will be reaping many of its rewards, but are you making the most out of what has been made available?
Here are a few aspects or advantages that you might want to consider.
Are you using brand search vs. non-brand search?
If you happen to be an ecommerce site using the new console, you can now take great advantage of the brand search vs. non-brand breakdown.
All sites should make use of this feature, as excluding brand impressions and clicks is really only the real way to discover your brand's organic SEO efforts.
Now that this can be done over a period of 16 months, companies should now be able to understand whether there are stable CTRs (Click Through Ratios), whether there are any variations of the brand that happen not to be ranking, and if brand bidding is impacting the CTR of an organic listing.
You can also filter and search for your own brand by choosing "queries containing" and typing it into the field, but remember, it should not be the full brand name.
This is because it's always handy to pick up common misspellings, for example, SAT.agency instead of SALT.agency.
You can also filter non-brand searches in almost the same way by using "Queries not containing" to view only non-brand keywords.
Multiple variables between search type, query, page, country, and device can now be filtered at once, whereas before only one option was available at any particular time.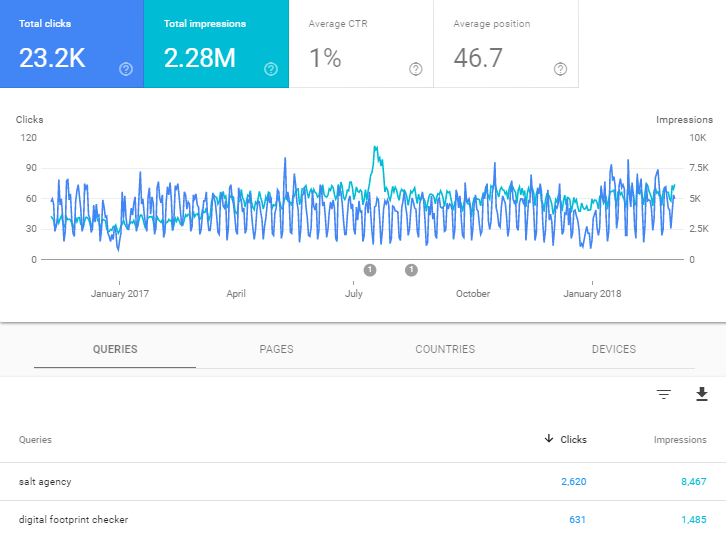 Are you making note of the index coverage tool?
All sites, ecommerce and otherwise, must be properly indexed by Google.
Although you could track indexing in older versions of the Search Console, it has added "issue tracking functionality" to the Index Coverage report, which is basically a combination of the old Index Status and Crawl Errors Reports.
Alerting site owners to new issues, the console will now provide information regarding specific problems, as well as verifying when they have been fixed.
Due to the fact that fixing webpages can involve a whole host of individuals, Google has even gone as far as adding share buttons within the report so that a direct link can be sent to a person tasked with dealing with that particular problem.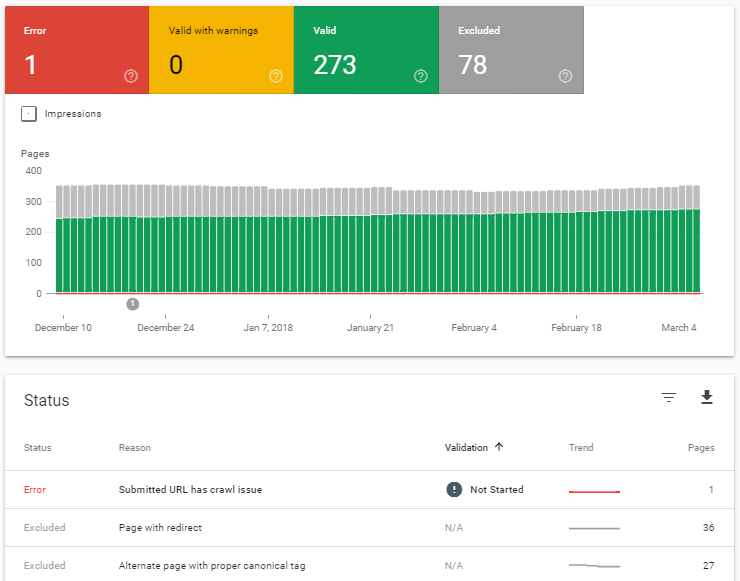 Are you considering your AMP pages?
Another wonderful addition to the new Search Console is the fact that you can now monitor your site's AMP pages.
In this new section you can tell how well these pages are performing, how they are displayed to users, and most importantly, whether there are any errors.
Issues will be grouped together in the AMP status report, which you can read about here.
The new console will also provide you with the amount of AMPs that it has found, which you'll be able to confer with your own reckoning.
AMPs are particularly important for ecommerce websites and Google's AMP Project reported fairly early on that ecommerce sites were already benefitting from their use.
For example, one company enjoyed a 15 per cent rise in conversions, while another experienced a 31 per cent fall in bounce rates.
If you haven't yet investigated AMPs for your own ecommerce site, the project has provided a great article about getting started with them.
With Google putting extensive resources into its mobile-first approach to website building, there's likely to be updates around mobile heading its way in the future, as it currently assesses how well your site is optimised for mobile usage.
Getting the most out of the new console
There's no doubt that the new Search Console has exceeded expectations for many, and if you use it correctly and efficiently, it can be a great help to getting your website moving in the right direction — with very actionable features.
If you want to know more about how we can help you get the most out of the search market using technical SEO, check out our contact page.