An SEO analysis of the US bed and mattress industry
The US mattress market had an estimated value of $5.86 billion in 2021 and is expected to expand further at a rate higher than the global average over the next 10 years. North America held over 50% of the global market share in 2021, making it a very lucrative business. 
We're going to look into the key players within the US bed and mattress industry to explore how websites are performing from an SEO perspective, considering how other factors may be affecting them.
Sleep industry search trends 
While brick-and-mortar stores remain essential to the mattress industry, consumer preference for online mattress shopping increased by 20% during the COVID-19 pandemic, especially among the younger demographic. This is clearly evident in search trends for non-local keywords like 'mattress store', which saw 10,982 more searches in June 2020 than the average search volume for local keywords during the same period.

However, in 2022, the International Sleep Products Association predicted the US bed industry would be one of many impacted by inflation. They forecasted the number of mattress units shipped in the US would decrease by 3.5%, while the wholesale dollar value of said shipments would increase by approximately 3%. This is reflected in the overall search trends for the keyword 'mattress' in the graph below. 

There has been consistent growth in the number of searches related to the mattress industry since 2015 which supports the idea that more consumers are turning away from the traditional brick-and-mortar mattress store to shop online.
A significant rise in searches around March 2020 correlates with lockdowns, further supporting the Better Sleep Council Research findings that suggest a consumer shift in preference for online research during the pandemic. 
This was then followed by a decline beginning in 2022, reaching levels of searches only seen before the pandemic in 2019. 
GoodMorning.com
Founded in 2009, the Canadian company GoodMorning.com was meant to solve the unnecessary pressure within uncomfortable sales environments that the typical brick-and-mortar mattress store had become known for. 
When we look at GoodMorning.com's organic traffic over time, there had been a fairly consistent decline in the year 2020 from February, which began to stabilize again in December.

While the average number of visits increased, March and August of 2022 is when we start to see significant peaks in traffic, rising to heights of 553 and 650 visits in the US. Both instances of performance increase were after the December Product Reviews Update and the May 2022 Core Update from Google that primarily focused on the E-A-T model.

The organic keyword performance fluctuates more exaggeratedly than GoodMorning.com's traffic performance, with deep drops in the number of organic ranking keywords by 85 between March and May. This coincides with the March Product Reviews Update and further supports the idea that the main Google Updates have significantly impacted their performance.
Mattress Firm
Mattress Firm has been in the sleep industry for nearly 90 years and has become one of the most trusted authority figures among established bed and mattress brands, with more than 2,400 physical storefronts in the US.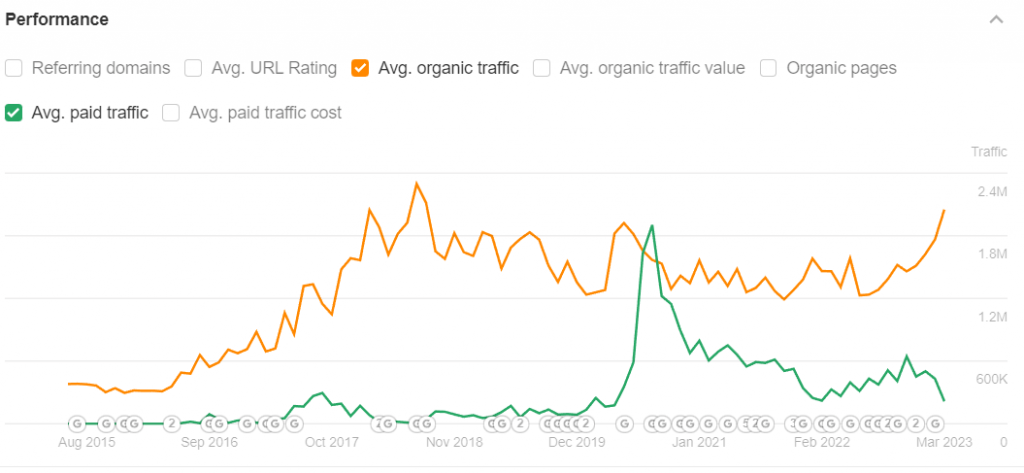 Its organic traffic had been decreasing from July 2018 until the height of the pandemic when, in April 2020, they had an increase of 541,566 visits. The brand was forced to close 700 of its physical stores. Organic ranking keywords were incredibly steady and changed minimally during this time.

Interestingly, a large increase in organic ranking keywords in September and October 2021 directly followed the Page Title Rewrites Update on Google, which saw titles rewritten. Previously, titles could change depending on the query of a user. 
Unfortunately, this boosted performance was short-lived, as it fell back down in the same sudden fashion in March 2022 despite organic traffic starting to increase again. This also occurred directly after another Google update, but this time it was the Product Reviews Update. 
Casper Sleep
Based in New York, Casper Sleep launched in 2014 with just one mattress, which was named one of TIME Magazine's Best Inventions of 2015. The brand began selling in physical stores in June 2016 across North America with an expanded range of six mattresses.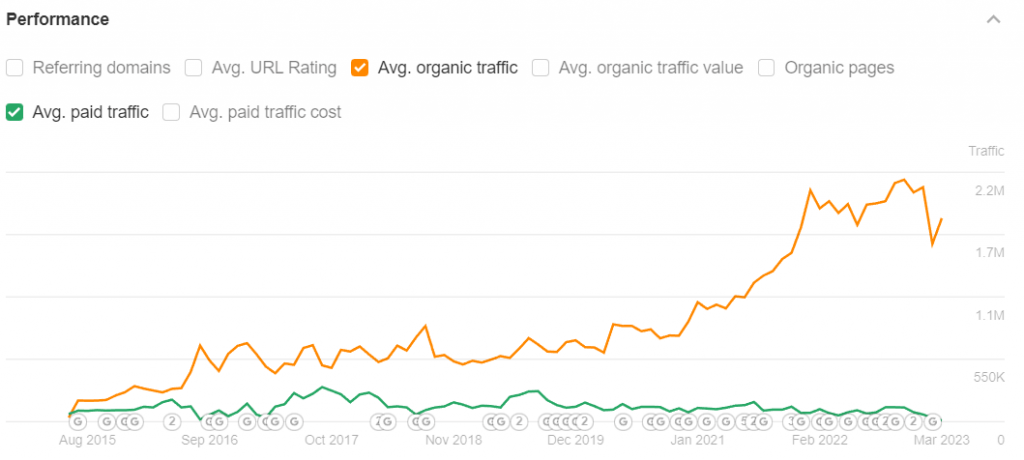 Casper's traffic performance correlates closer to the average organic traffic than other brands. It's seen a trend of growth from 2019 when the average number of visits was 381,817 in January to 1,438,262 in 2022 of the same period.

Interestingly, Casper Sleep has seen a steep increase of 59,005 ranking keywords in only six months from April 2021. Similar to Mattress Firm, we can see this familiar peak in performance from October 2021 to March 2022, which seems to have followed the Product Reviews Update in April 2021 and dropped back down again in April 2022.
Eight Sleep
The most unique take on mattress innovation has got to go to Eight Sleep. Founded in 2014, the startup company Eight Sleep uses innovative technology that enables their mattresses to track a user's biometrics to restore them to their personal peak energy levels every morning.
Upon first glance, it appears that the high-end sleep fitness company suffered an incredible drop in organic traffic in March 2020 due to the pandemic. 
However, traffic had already been declining since May 2019, when it went from 91,543 visits to a low of 26,111 in April 2020. This is where performance started to gradually improve with a slight dip between January and June 2021, proceeding with the December 2020 Core Update. 
The performance then started to pick up more significantly, reaching highs of 71,380 visits again in July 2021, corresponding to the rise of ranking keywords.

The organic ranking keyword performance mirrors the organic traffic performance more accurately than the other brands until 2022. This cut-off point came after a significant increase, similar to other brands, but the number of ranking keywords began to drop almost immediately, contrasting Eight Sleep's traffic.
Tuft & Needle
Tuft & Needle, named after the tufting needle used to make their first mattress in 2012, prides itself on honestly-priced products designed with user experience in mind. Known for its out-of-the-box marketing like the 'Mattress Stores Are Greedy' campaign, it comes as no surprise that Tuft & Needle utilizes paid traffic to its benefit.
After a peak of paid traffic mid-2021, it seemed to die off almost completely at the start of 2022. Meanwhile, organic traffic stayed fairly consistent until November 2022, when they lost 30,891 visits. This coincided with the drop in organic ranking keywords at the same time. This could be attributed to the October 2022 Spam Update, as performance seemed to return to speed almost immediately after.

Curiously, Tuft & Needle had also seen a spike of organic keywords around the exact time of all the other brands but has seemingly managed to maintain that sudden increase throughout 2022 and even into 2023 with few fluctuations.
Final thoughts
The sleep industry is highly competitive, meaning that the importance of implementing SEO best practices is even greater. All companies discussed have been impacted by Google's Core Updates, the July 2021 Link Spam Update, and the November 2021 Local Search update, which saw significant increases in organic ranking keywords for all brands. 
Inflation also poses a threat to the sleep industry, as predicted by the International Sleep Products Association. This is evident with the decrease of ranking positions on page 1 between 2021 and 2022 for both smaller companies such as GoodMorning.com which lost 18 positions, as well as mattress giants like Mattress Firm which lost 3618 positions.


While all brands saw ranking loss to varying degrees last year, the ones that performed the best from an SEO perspective were Casper Sleep, which saw a significant increase in ranking positions, especially on page 1 of SERPs. Although it lost out on 1259 positions in the top 3, it still increased overall page 1 rankings by 3519. The brand's overall on-page SEO score was 93 while the best practices score was 92, according to PageSpeed Insights.
Another winner in 2022 was Tuft & Needle, which still had an overall gain of 1264 ranking positions since 2021. Whilst it looks like the brand suffered a drop in top-level page 1 rankings, this did not negatively impact the amount of page 1 rankings Tuft & Needle held, which still saw an overall increase of 31 rankings. Effective target keywords are evident on category pages, as well as structured data like FAQs to better answer users' needs. 
GoodMorning.com's traffic performance generally stayed consistent with continued traffic growth moving forward into 2023. The number of ranking keywords has increased exponentially between 2021 and 2022, reflected in the organic traffic performance. Despite losing 284 positions on SERPs, these were mainly on later pages in SERPs.
On the other hand, Eight Sleep was a brand that performed worse than others last year. Interestingly, the brand held the second most ranking positions out of all the other brands but the second least amount of positions on page 1, with 1417 in 2021 dropping to 1332. Eight Sleep had an overall loss of 41,268 positions, mainly on page 4 of SERPs despite ranking for more keywords in 2022 which explains why these movements did not greatly impact organic traffic. 
Utilizing an SEO growth strategy to develop quality content for their pages and improving Core Web Vitals Performance would be a starting point for Eight Sleep to improve their overall site performance and therefore traffic performance.