An SEO analysis of the US jewellery eCommerce industry
Recent socio-economic developments have negatively impacted a number of industries, especially those relying consumers having a significant amount of disposable income to afford small luxuries. 
One such industry is jewellery. We investigated six brands within the performance of the US jewellery eCommerce industry and how they coped with the recent turmoil caused by the COVID-19 pandemic. We will outline the evidence of slowing growth, high and persistent inflation, heightened global uncertainties, and soaring energy and food prices contributing to the cost of living. 
Adapting to constant change, securing online visibility, and remaining at the top positions when consumers are ready to buy is crucial for businesses to remain profitable. This is especially if the brand in question does not have any physical stores.
Search interest around 'jewellery' remains relatively stable, with significant increases correlating with the festive periods for necklaces, rings, earrings, bracelets, and more. The global jewellery market is expected to reach USD 518.90 billion by 2030 and shouldn't be overlooked.

The lowest interest was recorded towards the end of March 2020 when the Covid-19 pandemic began to spread and the insecurity over the future was at its peak.
Women's jewellery continues to generate much more interest than men's, but the patterns observed in interest for both terms mirror the trend.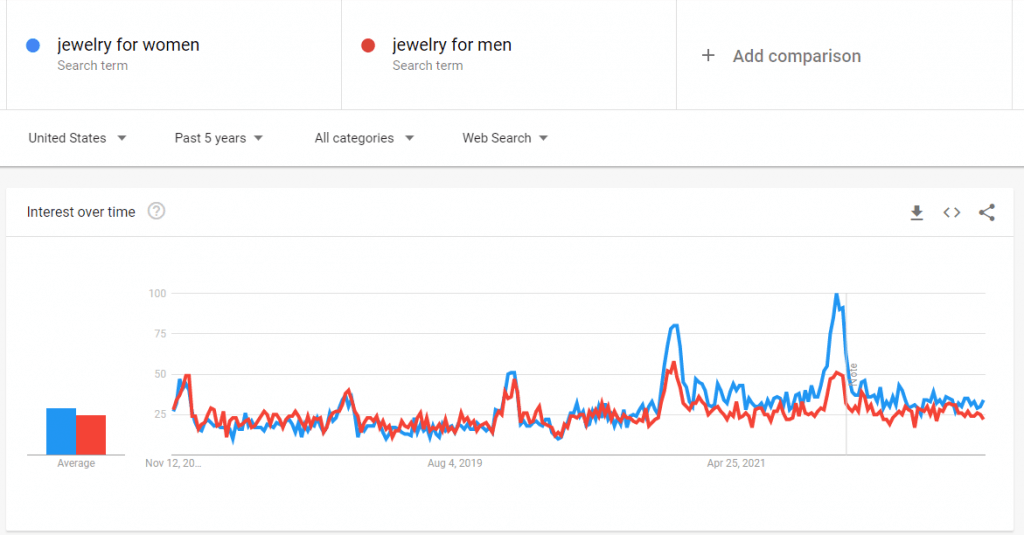 With the holiday season often responsible for up to 30% of annual revenue, jewellery brands must increase online visibility leading up to the festive period to attract users.
Let's evaluate how some US brands have coped with the pandemic and how they navigate the current spending climate. 
Mejuri 
Established in 2015 by Noura Sakkijha, Mejuri created a space where users were encouraged to buy jewellery for themselves instead of for others, making it more of an everyday item than a luxury staple. Mejuri creates unique pieces that allow wearers to express themselves. Its primary target audience is millennial women. 
Starting off initially as an online brand, Majuri engages customers and influencers through social media, email, and SMS. Being an online retailer, the brand's digital marketing efforts would be responsible for all of the revenue generated. The first physical stores opened in Toronto and New York in 2018. 
Following the COVID-19 outbreak, 15% of Majuri's staff was laid off in April 2020 and all retail stores were closed. May 2022 saw an intake of staff to strengthen the brand's online presence, but the macroeconomic challenges resulted in reduced consumer spending and increased costs. Supply chain issues saw 10% of its staff being laid off in August 2022 to manage Mejuri's financial health and outlook. Currently, the brand has 14 physical stores listed on its site across Canada, the US and the UK. 
Mejuri's organic traffic shows a growing trend with significant increases in average organic traffic in November when Black Friday offers and special deals attract customers to begin their Christmas shopping and correlate with industry trends.

The number of organic keywords (branded and non-branded) on the 1st page of SERP continues to increase, but the overall number of organic keywords decreased by 28,300. 

Majuri's website health shows opportunity for improvement as far as the following points are concerned, as they do not follow Google's SEO best practices.
JavaScript is being used to update canonical links, leading to canonical mismatch and pointing to non-indexable canonicals. o Googlebot may find this confusing, leading to Google ignoring chosen canonical links, indexing and ranking a different page than preferred.

Category pages do not utilise common practice among eCommerce websites of inserting content to aid Google's understanding of the page and to create opportunities for contextual links to sub-categories.

Majuri also missed the opportunity to create user-led categories —

men's gold bracelets

(Search Volume 69,300),

men's silver bracelets

(SV 29,300),

men's gold ring

(SV 3,700),

men's white gold rings

(SV 1,200) — that could potentially attract more traffic to the website and create internal linking opportunities.

Current implementation of language variations (Canadian English, American English, and British English) can cause duplicate content issues as the hreflang tag is not being implemented to advise Google about different language versions of the same content.
Zales
Established in 1924 and boasting more than 2,300 store locations across the US, Puerto Rico, and Canada, Zales online presence started around 1996 with the zales.com website. 
Signet Jewelers Limited (the parent brand of Zales and Kay Jewelers) underwent a rapid digital transformation at the start of 2021 to cope with the pandemic and to adapt to changed consumer behaviour. The transformation saw a virtualisation of jewellery sales, bringing the shopping experience to the customer wherever they might be. Signet Jewelers Limited aimed to provide a full store-like shopping experience by implementing a range of technical applications.  
The digital revolution does not appear to be performing as well as expected. Avg. Organic traffic in 2022 resembles values seen in 2017 despite a doubled number of organic keywords.

Zales.com gained more organic keywords ranking on pages 2+, which prevents the brand from generating clicks to the website as the CTR decreases significantly the lower the keyword is positioned on page 1.  
Zales appear to have created user-led categories that generate traffic and potentially bring conversions, such as infinity rings (Search Volume 15,900), claddagh rings (SV 2,600), cocktail rings (SV 130), class rings (SV 39,400).
The brand should consider focusing on the correct implementation of H1 tags, as mobile versions of the product pages have a blank H1 tag. Title tags could be rewritten to utilise available space within SERP for their relevant title link, such as Rings | Zales.
Meta description based on the product description may not be generating as many clicks as expected, as it exceeds that character limitand will be truncated in SERP.
Zales took advantage of HTML sitemap to aid users and create internal linking opportunities, which their sub-categories do not utilise fully.
Kay Jewelry 
Kay Jewelry is another brand within the Signet Jewelers Limited portfolio. Opened in 1916, Kay Jewelry's mission is to help customers celebrate life and express love by offering high-quality, competitively priced jewellery and watches coupled with outstanding customer service.  
Signet Jewelers Limited's focus on eCommerce plays a crucial part in its broader strategy to gain market share and grow revenue.  
Similar to its sister company Zales, Kay Jewelers underwent a digital transformation at the start of the pandemic to increase revenue from online sales. Improvements to Kay's website seem to have paid off, as the average organic traffic continued to grow in the run-up to the festive season, reaching an average all-time high in December 2020 of 5,255,246.
Kay Jewelry's approach to its online presence follows Zales as they fall under the same brand umbrella.
JTV
Established in 1993, JTV is one of the largest jewellery retailers in the US. The mission of the company is to open the world of jewellery and gemstones to a wider audience, primarily targeting female consumers aged 40-65,. JTV is accessible to the end user 24/7 via their live TV streaming, YouTube channel, and social media platforms (Facebook, Instagram, Pinterest, and Twitter).  
JTV's organic traffic spiked shortly after the website went live in July 2018 (avg.  monthly organic traffic of 30,533) and has been decreasing ever since.  
JTV's target audience and users visiting the website may not be seasoned search engine users, and the brand may not rely heavily on online sales as opposed to TV sales.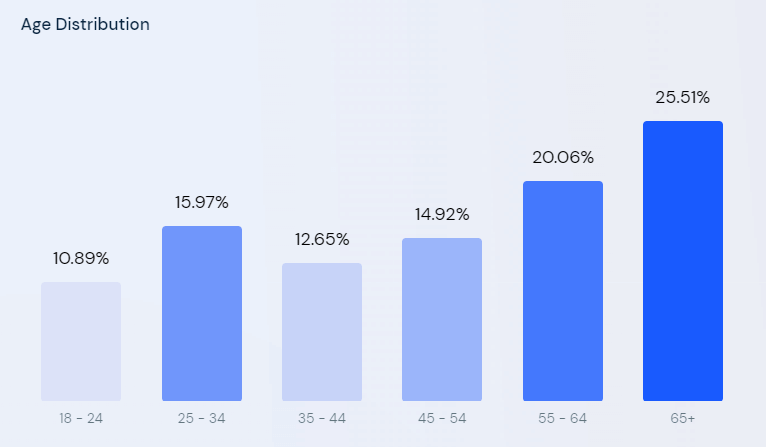 JTV should focus on best SEO practices and the following:
Create user-friendly URLs by avoiding underscores and non-eligible phrases (e.g. N-1379579963) to make it easier for Google and users to understand what a page may contain.

Add optimised contextual internal links from categories to relevant sub-categories

Review current filter implementation and create relevant sub-categories targeting new keywords, e.g. bracelet sets (SV 4,500).

Implement 'You may also like' related products link on product pages.

Optimising meta data by ensuring it's within the recommended pixel and character width and includes target keywords matching user search intent to minimise the chances of Google overwriting the page's sitelink in SERP.
JTV could easily multiply their current organic traffic by creating user-led categories and optimising them. The brand already utilises category names as filters and has a good stock selection to display on a page, such as promise ring (Search Volume 353,000), signet ring (SV 48,700), locket ring (SV 1,800), and statement ring (SV 1,100).
Kothari Jewelry
Kothari Jewelry specialises in contemporary and traditional Indian bridal jewellery. They offer South Indian Jewellery such as 22kt traditional South Indian bridal gold necklaces (Harams) and complimenting pieces, such as earrings. Kothari's target audience may not be as vast as other brands mentioned, as it's heritage influenced.
It appears Kothari Jewelry could better followGoogle's SEO best practices by doing the following:
Creating user-friendly URLs to allow users to predict the page's content and help Google better understand the page. For example, the URL

https://www.kotharijewelry.com/product.php?cat_id=4

makes it difficult to predict the content and may not be enticing enough to generate a click from SERP. 

Core pages should also be optimised to maximise ranking potential, which can be done by:

implementing canonical links to prevent duplicate content issues and undesired pages being ranked

optimising meta data with the correct placement of target keywords, usually following the Template Keyword | Brand that is aligned with natural eye movement while reading

optimsing meta data with an eligible URL to entice users to click on the website.

Creating unique content for core pages to help users distinguish between pages 

Implementing more contextual internal links.
Kendra Scott
A relatively new brand within the jewellery industry, Kendra Scott was established in 2002.  
Kendrascott.com organic performance appears to have been severely impacted by the pandemic, with the average monthly organic traffic in December 2020 dropping to its second lowest value during the festive season. The SEO efforts carried out in 2021 seemed to pay off, as the average monthly organic traffic was at its highest point of 1,433,996 in December 2021.  

The increased number of organic keywords ranking on the 1st page of SERP does not correlate with the average organic traffic, which can be attributed to either rich results satisfying search intent without the need of leaving the results page or unoptimised meta data that does not encourage users to click through to the website.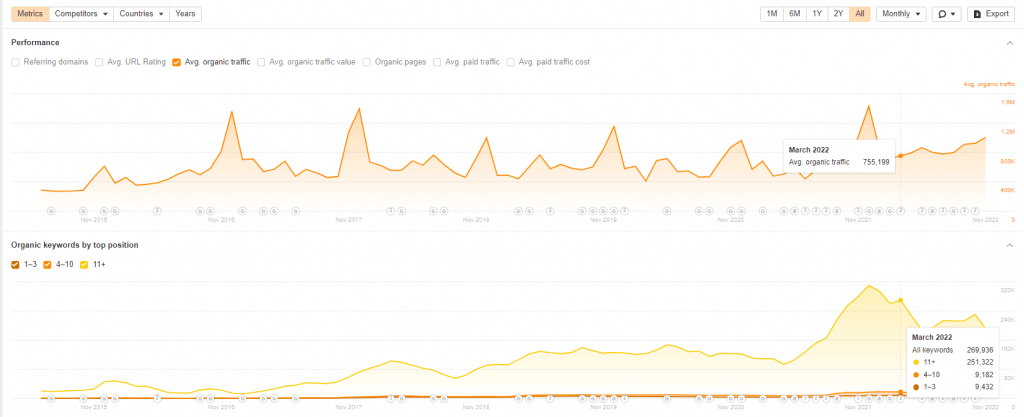 The mega menu could be updated to narrow down the results being served to the user. For example, the Rings section could expand into Engagement/ Wedding/Promise.  
Kendrascott.com utilises its category and sub-category pages to provide text for Google to digest, take advantage of internal linking opportunities and link to relevant sub-categories via an optimised anchor text.
Meta descriptions show room for improvement, currently following a template Buy + H1 + at Kendra Scott and may not be enticing enough to generate clicks. The chances of Google updating meta descriptions are relatively high as the available space has not been fully utilised. 
Branded and non-branded keyword distribution
Zales dominates the SERP for non-branded jewellery-related keywords on pages one and two of SERPs.  
Currently, they rank:
31,742 keywords in the top 3 positions (99.86% of all their queries ranking in the top 3 spots) 

33,407 keywords in positions 4-10 (99.97% of all keywords in positions 4-10) 

31,328 keywords on the second page of search results, accounting for 99.96% of all keywords in positions 11-20. 
Kay Jewelers has the second highest number of ranking keywords, currently ranking: 
17,665 non-branded keywords in the top 3 positions 

29,657 non-branded keywords in positions 4-10 

30,236 non-branded keywords on the second page of SERP. 

Final thoughts
It's obvious that Zales dominates the US jewellery market and focuses heavily on non-branded queries to capture an audience who may not be aware of the brand. However, despite outperforming its competitors, Zales.com still has room for improving its eCommerce SEO best practices. If they were to implement the aforementioned points, they'd likely be the consistent leaders in their niche.