SEO strategies for the fashion industry
The fashion industry is a multi-billion-dollar global sector devoted to selling clothes and accessories.
Although there is a difference between haute couture and mass-produced apparel, from an SEO perspective, fashion eCommerce stores operate in largely the same manner, regardless of production volume or the price tag.
The challenge lies in the fact that search engine result pages (SERPs) are saturated with competition.
New and emerging fashion labels face the struggle of low to no SEO budgets and have difficulty outperforming established brands.
However, there are ways for smaller fashion companies to improve their position in the SERPs.
This blog post provides eight ways to achieve highest digital performance and to become a key player in the fashion sector.
Know your place in the market
To position yourself on the market, you must know your brand's key attributes, target audience, and the tangible targets you are working towards.
Ask yourself the keywords that would you like your website to rank for:
What demographic audience are you trying to capture?
What keywords wouldn't you want your brand associated with?
How does your brand differentiate from others?
You should be able to answer all these questions to complete the following steps and set up a targeted, goal-driven SEO strategy.
Identify the right keywords
The way users search is continuously changing, especially in a sector led by trends and seasonality.
Keyword research will ensure you target keywords that are not too difficult to rank for, and that the traffic will consist of users with commercial intent.
Look for long-tail keywords, as "denim jacket" will not get you far, due to other well-known websites already ranking for them. Try something like "women's denim jacket with patches" for better organic search performance.
Use the keywords in product descriptions, meta titles and meta descriptions, as well as in supporting content.
If you wish to compliment your SEO efforts with PPC, you can use your keyword research findings for paid advertising campaign planning.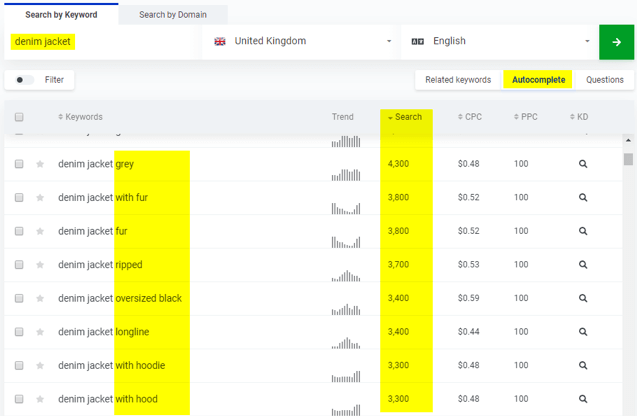 Longer and niche keywords drive more traffic from users that are further along in the buying process and who are shopping around for the best deal for a specific item.
Make sure that your long-tail keywords are up to date with the latest fashion trends and seasons.
Use keyword research tools such as KWFinder and don't neglect their suggestion/autocomplete/questions functions.
These can be of great use when looking for long-tail keywords.
To see the keywords you are already ranking for, use AHREFS or a similar tool to export your organic keywords for further investigation.
Research your competitors and audit your website
Analytics tools such as Serpstat enables you to see your brand's position among the competition.
To illustrate, below is a competitor's graph for the brand, Gym Shark.
Based on the tool's semantic structure and brand visibility settings, it lets you see how close competing domains are.
In essence, the shorter the distance between Gym Shark and a competing domain, the closer the competitors are.
This knowledge will allow you to focus research on your main competitors.

Audit your competitor's website as a potential customer and evaluate their strengths and weaknesses.
Perhaps they have a state of art product images and captivating website design?
Is their navigation easy to use and check out process fool-proof?
Does the internal linking leave no landing page without connection to another part of the site?
Did you find their blog content informative and useful?
CTAs and use of language
To achieve a conversion, it is essential to engage a user at every step of their purchasing journey with compelling CTAs and engaging language.
Try to pinpoint the marketing, psychological, and technical tools that your competitors have used to convert their visitors.
URL structure
Create clear URL structures and breadcrumbs that guide users through the site. This can make a big difference to the user journey and increase conversion rates.
Make sure your URLs are clear and understandable, not only for users, but also readable for search engines.
Here is an example of an optimised URL from the Fat Face brand:

As opposed to a dynamic URL, which might confuse both Google and the user:
Supporting content optimisation
One of the main advantages of the ever-changing fashion industry is that you will never be short of new content.
For supporting blog or fashion guide content, make the most of seasonal content, such as festive Christmas party outfit ideas or festival fashion tips, and optimise the content with relevant and sought-after keywords.
As we've said in the above, if your brand is not yet well established, instead of trying to outrank big household names, go after long-tail keywords.
For example, instead of "Christmas dress", target "what to wear to a Christmas party" or "Christmas night out outfit", which still have a significant search volume in the winter months.
As eCommerce is driven by visual stimulation, you can optimise your site with other features such as carousel of product images, videos, images of your product features in magazines or social media.
Site architecture and taxonomy
Before tackling specific content on your website, assess the layout of your site.
Website layout and ease of navigation are essential for users to browse through your site.
Distinct product categories with subcategories will make it easy to find products and improve your search performance.
Here's an example of good and bad site architecture and internal linking: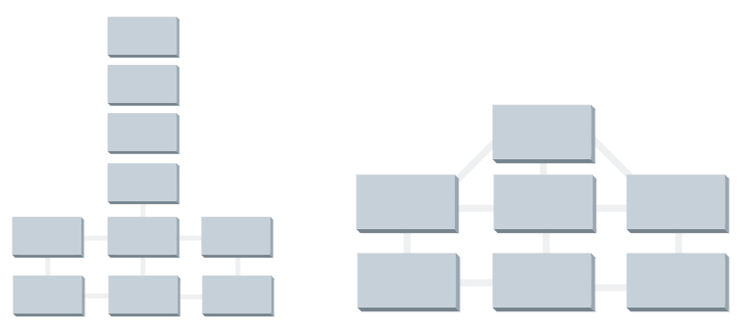 Avoid keyword cannibalisation and do not create a separate page for every single item that your eCommerce site sells.
Solve the issue by separating products in categories and having category descriptions.
Putting products in categories will also help users to navigate through your products.
Optimise your product images and descriptions
Focusing on individual content piece optimisation entails creating both existing and future copy and making images on your site search engine friendly.
The fashion industry relies on visually compelling images.
Dress up your website with high-quality images like you would dress up a model for a fashion show; it must reflect the brand and showcase the products and their quality.
How do you optimise an image?
Firstly, make sure photos are in JPEG or PNG format and ensure they are reduced in size. Use tools such as TinyPNG to compress the images without losing quality.
Large image sizes will slow down the website and provide poor user experience, which is crucial for viewing the products.
Make sure to compress your images and video files to not lose out on page speed.
How do you optimise product copy?
Product names should be as unique as possible so you do not have the same product names and descriptions for multiple products.
Create copy that will reflect your product's qualities and features and convert users into customers.
Emphasise the unique selling points of your products, such as the artwork featured on the heel of a stiletto shoe, or the back design of a leather jacket using the findings from your keyword research.
Make sure you answer all the questions that a potential customer may have, such as the materials, texture, finish, fit, and colour.
Write the copy for your ideal customer using sensory words (silky, soft, light, etc.) and power words as a psychological advertising tool.
If you have a product that has run out of stock, do not redirect users to another page, as they might be after the specific product.
Amend the product page to provide information on when the product will be in stock, link to similar products, or let visitors sign up to notifications for when the product will be back in stock.
Affiliate and influencer marketing
Using tools such as AHREFS, look at what third-party websites your competitors are working with, what marketing strategies they are using, such as affiliate links, influencer marketing, guest blog posts, and other collaborations.
To continuously improve your backlink profile, monitor their backlinks and social media presence.
Apart from internal links, backlinks are the tool that will send traffic to your website and increase your search engine performance.
You can reach out to fashion bloggers, social media influencers, and digital fashion magazines.
If you organise an in-person event with relevant industry people, they might generate content about it and link to your website.
Lastly, try to get an interview with an important person in the fashion industry. A positive interview is something they might want to share and link to your site.
A fashion blog can also be a feature that drives traffic to your fashion eCommerce site. However, make sure not to turn the blog into a product advertisement.
Consumers are not looking for a sales pitch, but useful information. All the above strategies will help amplify your on-page SEO efforts.