Increase MoM Organic Traffic Following Custom Edge Based Dynamic Rendering Solution
Brief
An EMEA based international classifieds website approached our agency as they were facing problems with their angular website, content indexing in the correct countries, and general organic search performance.
Achievements
We approached the project by completing a comprehensive technical SEO audit of the website.
The initial audit assessed JavaScript performance of the website, and identified technical issues, as well as issues with the client's international framework, and put together an integrated SEO strategy to fix the problems, improve the overall website performance and achieve a competitive position in the classified market.
Additionally, our SEO content consultant team performed a top-level on-site and off-site content audit, as well as identified content opportunities.
Through a holistic competitor and keyword research, the team put together a supporting blog content strategy.
The SALT team began the optimisation process by addressing the established technical issues and addressed the feasibility and timeline with the development team.
Using our in-house Edge SEO tool Sloth, we developed a custom JavaScript rendering solution using Cloudflare Workers. Using Edge SEO technologies, we implemented hreflang across all eight regions in which the site operates.
The traffic saw a massive increase following the implementation of the dynamic rendering solution. From the implementation in the 3rd month of the project, the business saw a 66% increase in organic traffic between months three and six, with the website achieving a 185% YoY traffic increase in month six.
In this period, the user signups to the classified website increased by 44%, meaning almost one in two website visitors created an account.
Expertise
Technical SEO Audit
JavaScript SEO
Edge SEO Implementation
International SEO (EMEA Region)
Content Optimisation
Supporting Content Strategy
Results
185% increase in organic sessions
44% increase in user registrations from organic search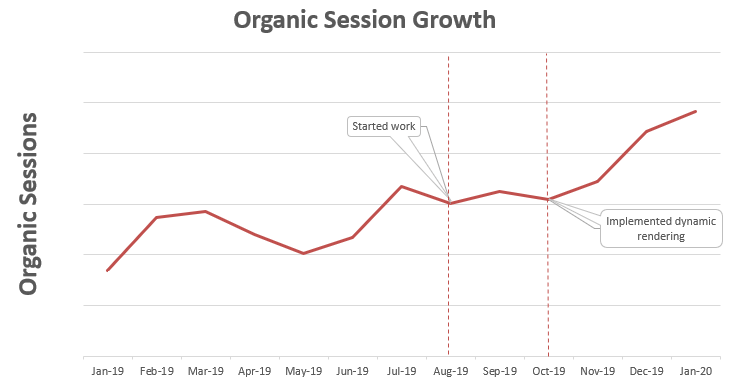 Speak to a JavaScript SEO consultant