Supermarket sweep: Price increases impact public trust in top supermarkets
A recent study by Which? found that trust in UK supermarkets has fallen to its lowest point in a decade. Measured on a scale of -100 to 100, as of August 2023, the 'trust score' for the grocery sector sits at 30, compared to 24 in 2013.
The consumer study claims that 85% of consumers are still worried about food prices, while the same amount worry about the well-publicised increase in energy prices.
These issues have factored towards a fall in supermarket trust, with many wanting to see supermarkets do more to help those on a budget.
YouGov data shows that the gap in overall supermarket favourability has reduced dramatically since the sector's publicly commended efforts during Covid-19.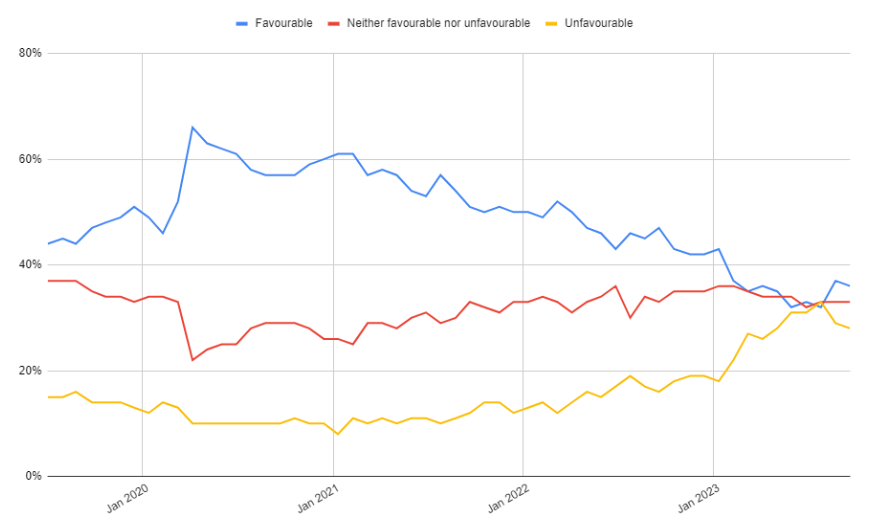 What this means for supermarkets
Consumer Popularity
The decline in confidence also shows in YouGov's popularity ratings. Since COVID-19, larger supermarkets have fallen in popularity, while local stores, such as Londis and Nisa, have enjoyed increased consumer favour.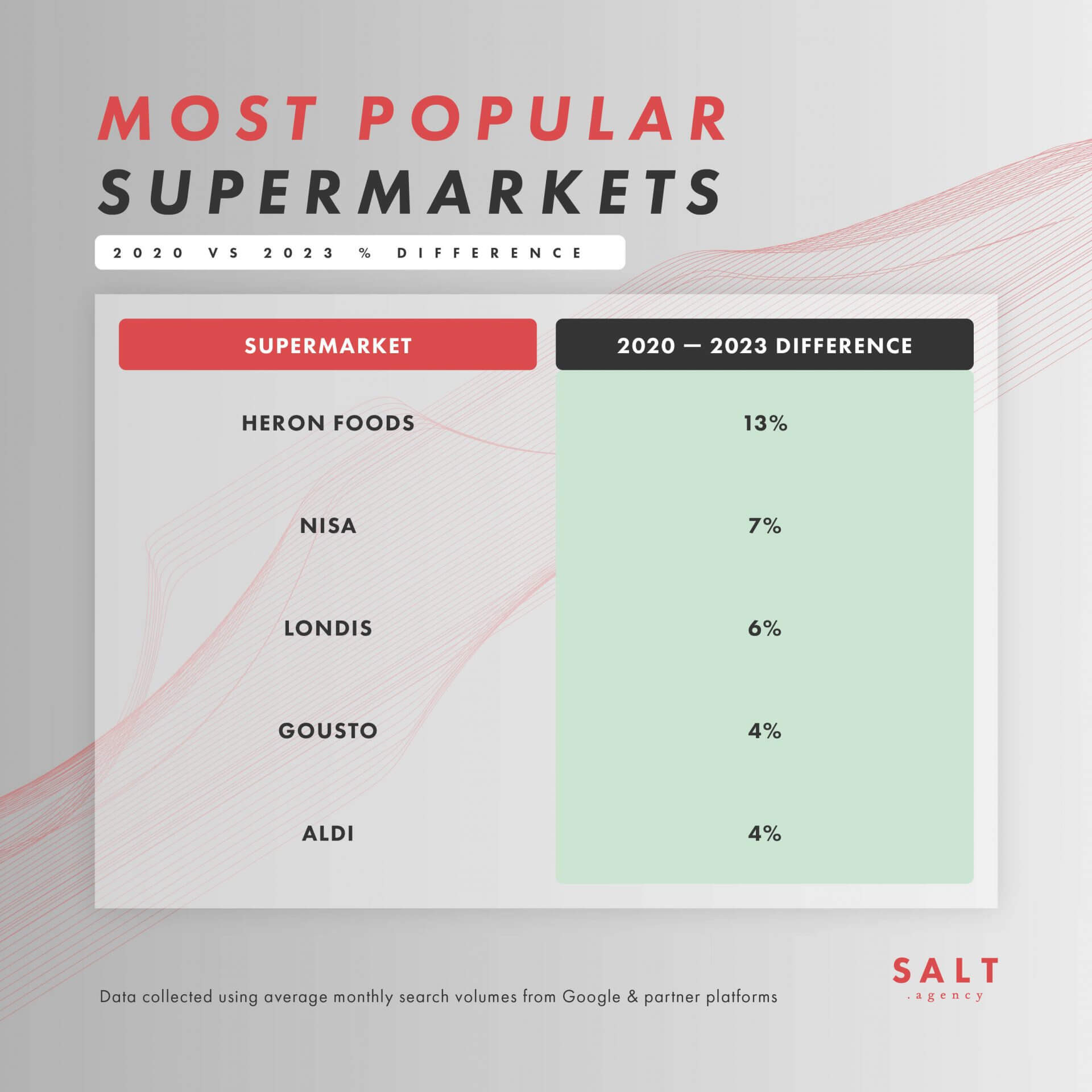 Supermarkets' search landscape
The change in popularity isn't just a brand contest — it's impacting organic searches.
Most supermarkets with decreased popularity have also seen yearly brand search volume decline.
Using third-party data, when viewing supermarkets with the largest search volume in 2023, nine out of the top 15 saw a reduction in search demand from last year.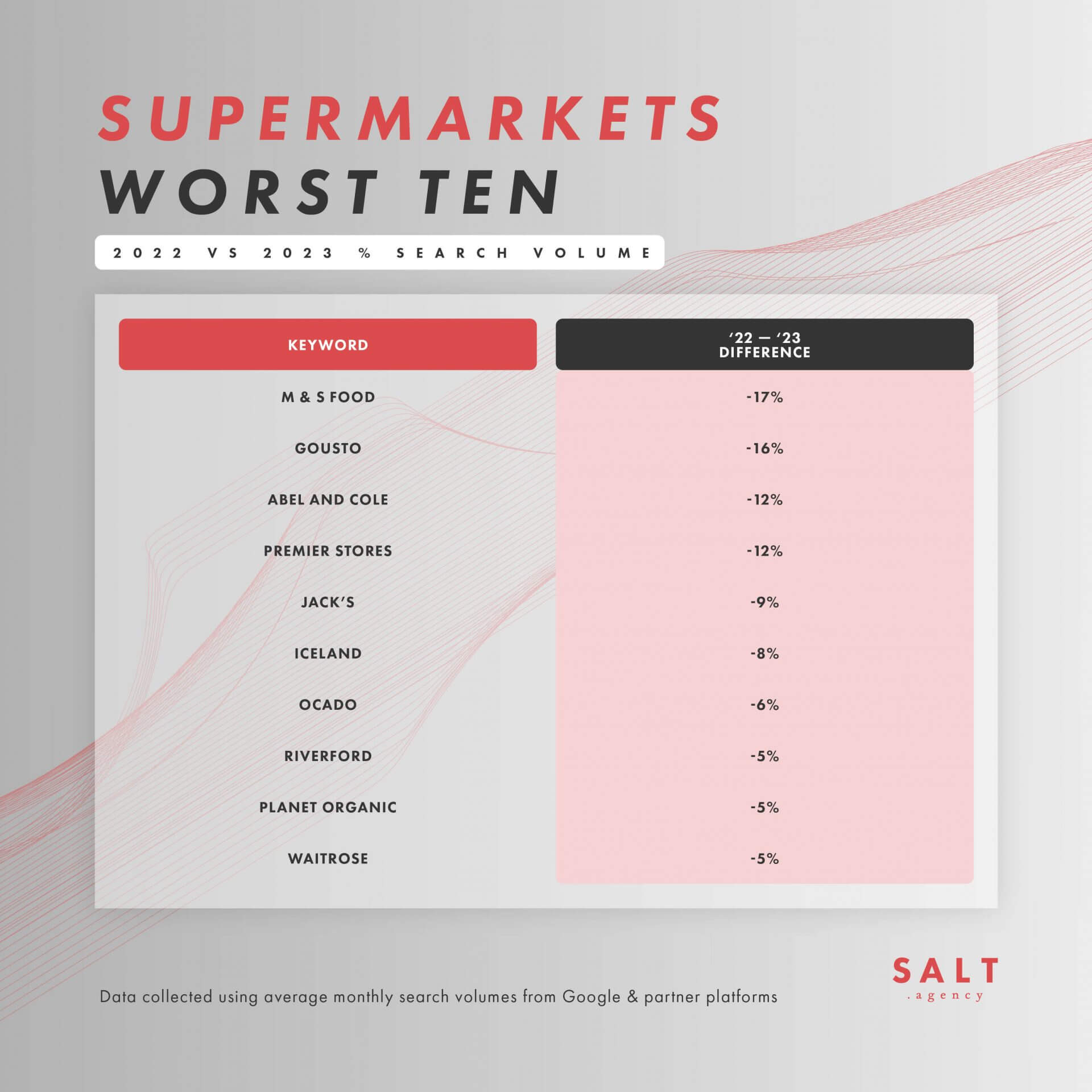 Organic traffic
While search volume has dropped, organic traffic as a whole has increased. Out of the top 10 supermarkets with the highest organic traffic, the biggest increases were seen in those known, rightly or wrongly, for being cheap, especially in the wholesale market, with brands such as Costco.
| Supermarket | 2022 & 2023 Difference |
| --- | --- |
| The Co-operative | 18.87% |
| Costco | 14.00% |
| Iceland | 13.57% |
| Tesco's | 10.37% |
| Sainsbury's | 9.39% |
However, it's worth noting that the two supermarkets with the highest organic traffic in 2023 also include smaller local shops — notably Tesco Express and Sainsbury's Local — which have seen a 45% and +43% increase in search trends over the last 12 months alone.
| Supermarket | 2022 & 2023 Difference |
| --- | --- |
| Sainsbury's Local | 45.47% |
| Tesco Express | 43.89% |
| SPAR | 37.56% |
| One Stop | 26.04% |
| Londis | 21.61% |
Supermarkets' saving grace
While popularity and trust may be at a 10-year low, the supermarket industry rebuilt consumer confidence for a time and has the potential to do it again.
With search volume dropping while organic traffic grows, this suggests people no longer value brand loyalty and will visit sites they feel offer better value.
It is also worth considering the broader impact of rising inflation on all retail and consumer industries.
The cost of living crisis is undoubtedly one reason why local convenience stores enjoy increased traffic, as people look to visit stores closer to home rather than venturing further afield to do a 'big shop'.
SEO's role in supporting brand trust
There may be an emphasis on improving brand trust, but website trust is equally important for users and search engines.
Google has already made significant changes in analysing and ranking websites to continue its focus on user experience.
With competition increasing within search and keywords, we've compiled a list of top tips to include in an SEO strategy that builds brand trust.
Local SEO
Local SEO is crucial for brands looking to build trust with current and potential customers. Focusing on local SEO will help brand visibility and drive visits to both websites and local stores.
Google Business Profile and Bing Places
Using Google Business Profile or Bing Places helps manage key information about local branches, ensuring they remain accurate and relevant.
Add professional or high-quality photos of the business premises to help show a physical workplace's trustworthiness.
Reviews
Encourage satisfied customers to leave positive reviews through Google or other review services. When other consumers see positive reviews, it helps boost brand trust.
Don't shy away from negative reviews either — respond to these even if it's an acknowledgement of a bad experience. Ensure professional responses and aim to take these conversations offline where possible.
Contact pages
Optimise local contact pages with up-to-date details, including address, phone number, opening hours, and available services.
High-quality content
Develop content that addresses consumer needs and questions related to groceries, cooking, nutrition, and more.
This strategy includes blog posts, recipe guides, and informative articles. High-quality, informative content establishes relevant brand authority.
An SEO content strategy builds a library of high-quality content to show that trust.
Experience, Expertise, Authoritativeness and Trust (E-E-A-T)
Aim for content to meet Google's E-E-A-T standards. These form part of Google's Search Quality Rater Guidelines, used by third-party Search Quality Raters spread across the globe. These analysers perform random checks to see if websites on search results pages are relevant.
Although not a direct ranking feature, it's important brands show E-E-A-T throughout their websites.
Clear information about the company
Include about and contact pages within the main navigation or footer for easy user access.
Also, consider creating privacy, terms and conditions and delivery information pages and link to them within a footer.
Show author expertise
Ensure supporting or non-commercial content includes an author, whether on guidance pages, reviews, or recipes. Provide the author with a full name and have a short bio to showcase why they're an expert in their field.
Technical SEO
Websites are the windows through which potential customers peek, and technical SEO and website health are pivotal in how a brand is perceived online.
Mobile First
A mobile-friendly website is no longer good practice — it is essential. Ensuring a website works flawlessly across different screen sizes improves customer experience while reducing the chance of missing out on potential customers.
Clear navigation
Clear navigation, using descriptive-friendly labels and a logical, well-thought-through order, helps users and search engines navigate the site. This feature is especially important if there are a lot of pages or a complicated menu.
Clean URL structure
Similar to the navigation, a URL structure is best when clean and simple. It helps the user, and search engines prefer clean URLs.
Ensure that the page's keyword is included to help identify the page's subject while implementing canonical tags to prevent duplicate content issues.
Security
Unsurprisingly, security is a major trust factor in brands, especially over the internet, where people will share personal and financial information.
SSL (Secure Sockets Layer encryption)
Having an SSL certificate on a website is now a bare minimum requirement.
Having one of these certificates will change the domain from HTTP to HTTPS.
It will also show a padlock next to the site's domain in the address bar.
An SSL shows users that a website is verified and safe and demonstrates a commitment to safeguarding user information.
Should a user land on a non-secure website, they will be met with a "Not secure" message in the browser address bar, which would damage the trust and reputation of the brand.
Trust Badges/Accreditations
Including trust badges or accreditations on a website can give a sense of trustworthiness and help build credibility, especially if they are from well-known organisations.
These can range from payment badges from processors to security seals from reputable companies like McAfee or Norton.
Display any accreditations linked to the industry to show brand value and adhere to a set of standards and ethics.
Backlinks
Possibly one of the most difficult aspects of SEO, backlinking significantly contributes to building brand trust among search engines.
High-quality backlinks from reputable websites boost brand credibility and authority within search, yet building a backlink profile takes time and effort, even though it is worth it in the long run.
A strong backlink profile signals authority to search engines and shows that customers and other trusted sources vouch for a brand.
Link-worthy content
We focussed on high-quality content earlier, but it's vital for backlinking to create shareable and link-worthy content.
Earning natural backlinks from great content will be much easier than contacting industry influencers or authoritative websites and requesting a link.
Quality over quantity
Focus on targeting backlinks from websites already seen as authoritative and trustworthy.
A few high-quality backlinks from national or governmental websites will be more valuable than several low-quality ones.
Natural and relevant
When identifying websites for backlinking opportunities, ensure that they are relevant to the industry — otherwise, search engines will view them as backlink spam, which could impact search performance.
Avoid using paid links, as Google could still see these as spammy.
Backlink audit
Larger brands tend to have many backlinks, so it's important they're monitored, and any links that appear to be spammy are disavowed.
Use tools like Google Search Console to review site links. Keep a record and check for new links to content.