Helping The Pen Company To Increase Organic Search Traffic YoY By 335%
Brief
On its multifaceted eCommerce website, The Pen Company offers a wide range of quality writing instruments and associated stationery products. The family business provides everything from pens to bespoke design diaries and collaborates with luxury brands such as Hugo Boss, Porsche, Bentley and Ferrari.
SALT.agency was brought in to revamp the website and deliver technical SEO excellence. For half a decade our team has been a continuously invested shareholder supporting the business with technical SEO, marketing and content optimisation services and consultancy.
The company we had been paying thousands of pounds to for SEO had been 'spamming' our results by creating links to our site - over thirteen and a half thousands of them! These were all junk, links from porn sites and spoof sites etc. and we were totally unaware of their existence.

We desperately needed expert help and guidance from someone who wasn't out to rip us off (a not uncommon occurrence in this business I have come to understand).

Thank you, I am sure that we would no longer be in business without your guidance and support.
– Tom Gill, The Pen Company
Expertise
Technical SEO audit
Holistic content renewal strategy
Integrated marketing strategy
Google penalty removal
Mobile first
International-first re-platforming
Results
Organic traffic growth YoY ↑335%
Keyword growth YoY ↑642%
Achievements
After cleaning up very poor SEO practices that had damaged and spammed the Pen Company's website, and after removing a Google penalty, SALT.agency completed a holistic digital transformation. This included technical SEO running in parallel with an integrated SEO marketing strategy, content audit, and mobile-first development.
The audits offered valuable insights into audience behaviour and allowed us to coordinate an SEO campaign towards optimal customer experience. In-depth market analysis and content replenishment have both resulted in exponential business success and excellent technical SEO performance. This holistic project encompassed commercial content development, influencer marketing, and using unique templates to create high quality category and product pages. With SALT.agency's expertise, The Pen Company has achieved flourishing product sales, audience reach, primary keyword rankings, and has increased organic traffic on all major search engines.
The business has undergone a full digital transformation from an outdated website, to a high-performing mobile-first SEO website. The company is constantly investing in the brand by building signals with the production of regular high-calibre content. The partnership with SALT.agency has allowed the business to see rapid growth and to continue driving sales.
In 2019, The Pen Company plans to take the next step and expand internationally. Our team has produced a two-phase international SEO campaign making the website international-first with a new cutting-edge website launching within a few months.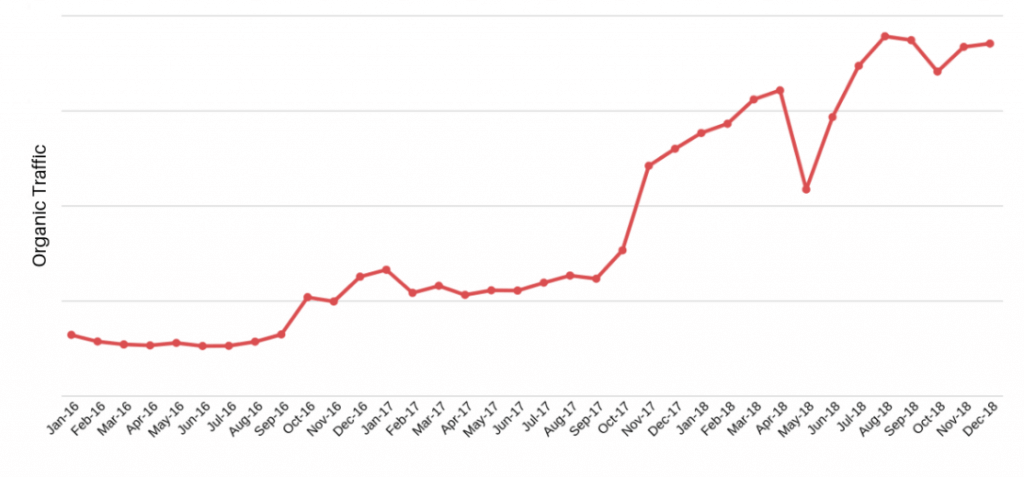 UK organic traffic increased from 622 visits per month to 6.9K visits today over three years, representing an annual organic traffic growth rate of 335%. UK organic traffic increased from under 500 keywords per month to 2.5K keywords today over three years, representing an annual keyword growth rate of 642%.